Wheelchair Accessible Experiences in Las Vegas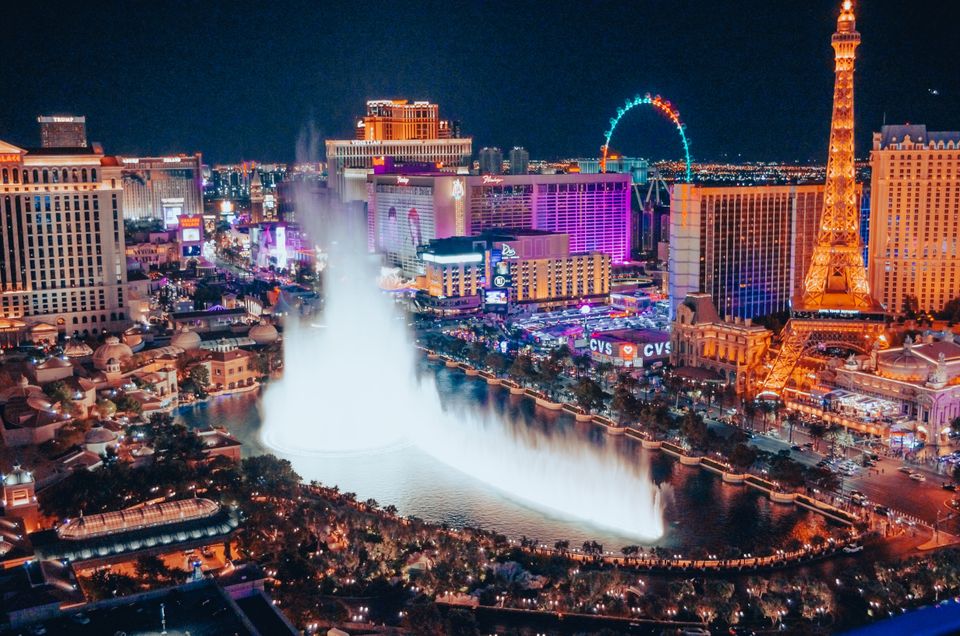 Las Vegas is full of fun experiences and things to do. As one of the most visited cities in the U.S, it has become increasingly accessible to wheelchair users and those with disabilities. Let's take a look at some of the main attractions and activities you should put on your list when you visit this energetic city.
Explore the Vegas Strip
Let's be real, this is the main reason you're probably going. Las Vegas Boulevard, also known as the Vegas Strip, is the main street where most of the upscale hotels and casinos are, popular shows and entertainment, restaurants, and attractions. Tourists flock here to take in the sights of the beautiful buildings and sparkling lights and to begin their night out in Vegas. If you stay in one of the hotel resorts here, you won't ever have to leave the strip.
Is the Strip Wheelchair Accessible?
Yes it is! It is accessible to visitors with disabilities, as the sidewalks are wide and fairly smooth, so they can be navigated in a wheelchair or with a mobility aid. The resorts, casinos, and main attractions on the street are generally very accessible as well. However, be aware that the Strip can be quite crowded, especially during evenings and weekends.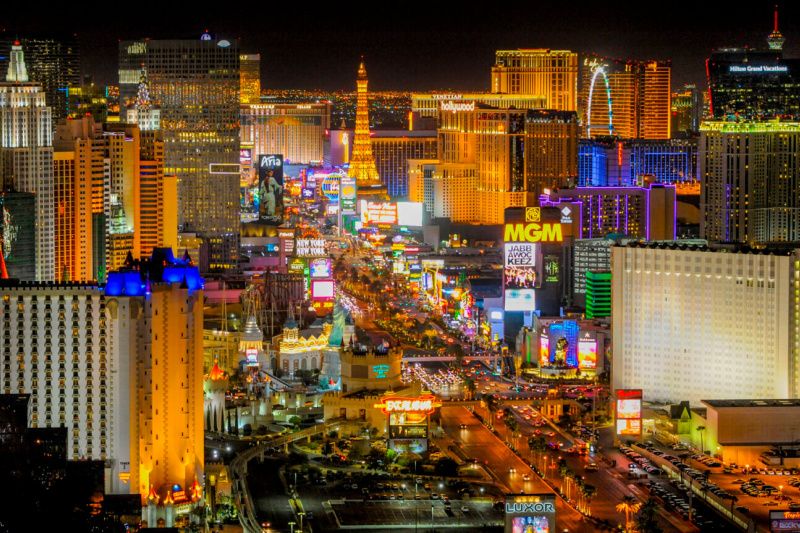 The Bellagio Fountain
Located at one of the best resorts in the city, the Bellagio Resort on the Vegas strip has a massive musical fountain show in front of it. With dancing fountains, music, and lights, it is definitely worth a viewing. The show happens most days of the week and run every 15-30 minutes depending on which time of day it is. Plus, it's free!
Make sure to head inside the Bellagio Resort afterwards, as it is one of the best hotels in Vegas. Built in 1998, it was the most expensive hotel constructed up until that point. There is a beautiful art gallery with a vast amount of fine artwork that you can browse, as well as a massive 14,000 square foot Botanical Garden and Conservatory that is transformed based on the season. The Bellagio has over 120 staff members that tend to this beautiful arboretum year round, making it a must-see attraction.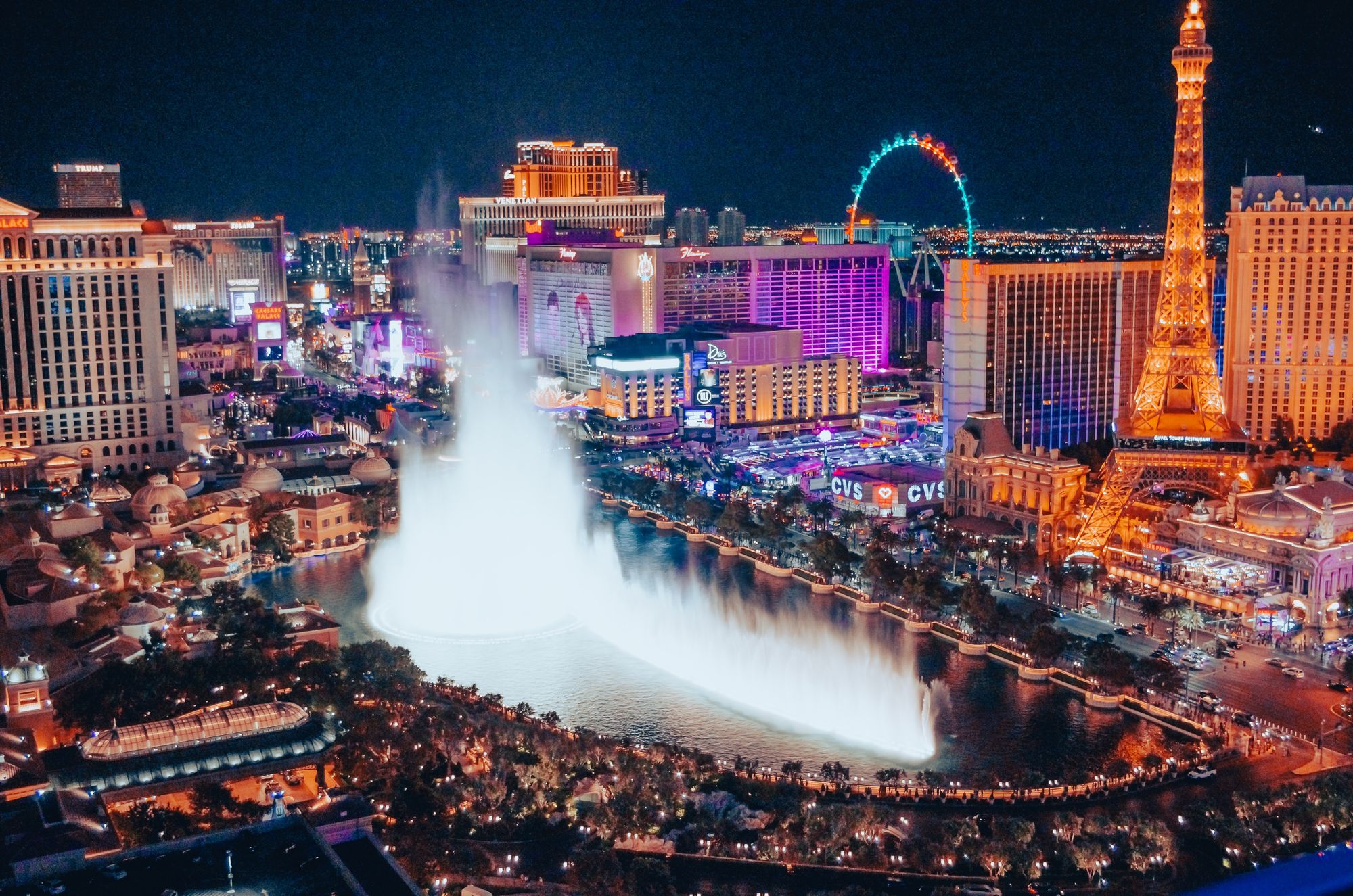 Madame Tussauds Las Vegas
Spend some time hanging with celebrities on a self-guided visit to Madame Tussaud's Las Vegas. Madame Tussauds boasts a huge collection of waxwork figures of the rich and famous, with stars from the world of films, sports and music. You'll be able to pose with the waxworks, take fun photos and explore sets from famous films.

Madame Tussauds Las Vegas is an accessible attraction, with a wheelchair-accessible entrance, and elevators between the floors. Wheelchairs are also available to borrow onsite free of charge, and are distributed on a first-come, first-served basis. Staff are trained to assist people with disabilities, and one caregiver can be admitted free of charge. Service animals are allowed.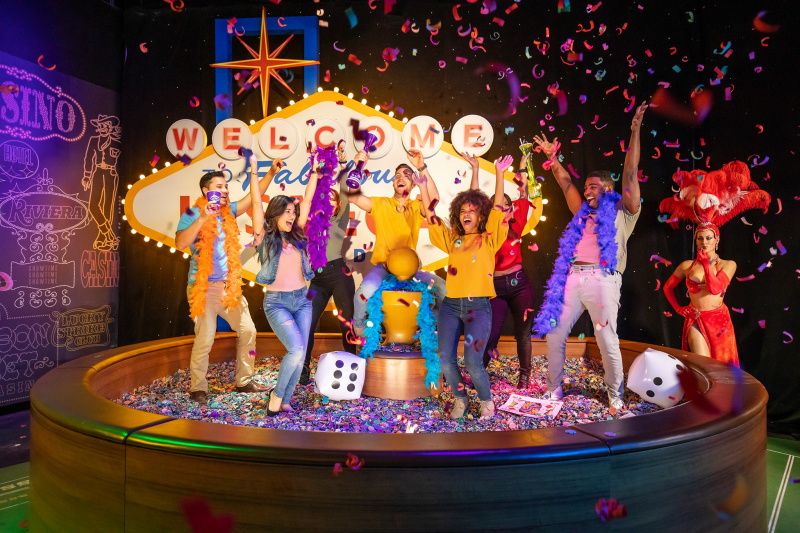 Try a Vegas Buffet (they're so good)
One of the best parts about Las Vegas is the food. There are wild concoctions you can find around the city that are once in a lifetime experience. The buffets are one of the better parts of the food scene here, and you have a plethora of options to choose from. The Wicked Spoon at the Cosmopolitan resort is worth a consideration, or the buffet at the Luxor. The decadent and delicious variety of foods you can get at the Vegas buffets is worth a night's dinner. Whichever one you decide to try, it is a good bet that it'll be satisfying.
Explore the Amazing Pools Around Vegas
The pool areas of Vegas are some of the coolest aspects of the hotels there, especially during the warmer months. If the accommodation you're staying at doesn't have a pool or isn't up to par, no worries! You can always buy a day-pass at various resorts and enjoy a day by the pool... perhaps with a cocktail in hand. You'll find poolside service with fantastic food, drinks, cabanas, and many more amenities. A majority of resorts have pool lifts available as well, so you can cool off during a hot afternoon.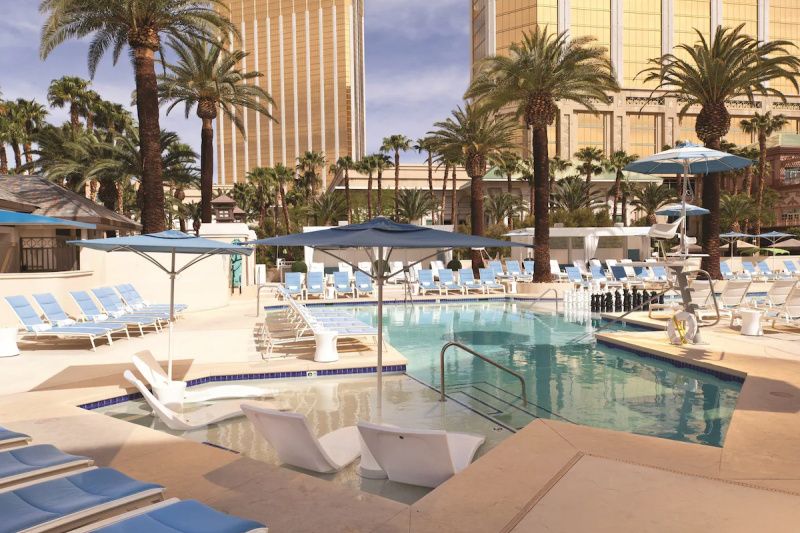 Downtown Vegas Guided Tour
This may be an ideal thing to do on your first day in Las Vegas. On this accessible two-hour tour you'll be able to explore Downtown Vegas, discover the area's history and pick up some top tips for the rest of your time in Sin City. The tour departs from Downtown Container Park, an out-of-the-ordinary shopping mall built out of shipping containers that features sculptures, restaurants and live entertainment. Your guide will lead you down East Fremont Street, a lively area with a range of street art, neon signs and trendy bars, before passing by the famous El Cortez Hotel & Casino; Casino which was once owned by several of Vegas's notorious mobsters.

You'll continue your tour with the Fremont Street Experience and a chance to see the world's largest video screen which hangs on an overhead canopy and shows spectacular musical performances on the hour from 18:00. Your guide will be able to assist you throughout the tour and accessible bathrooms are available at multiple stops along the way.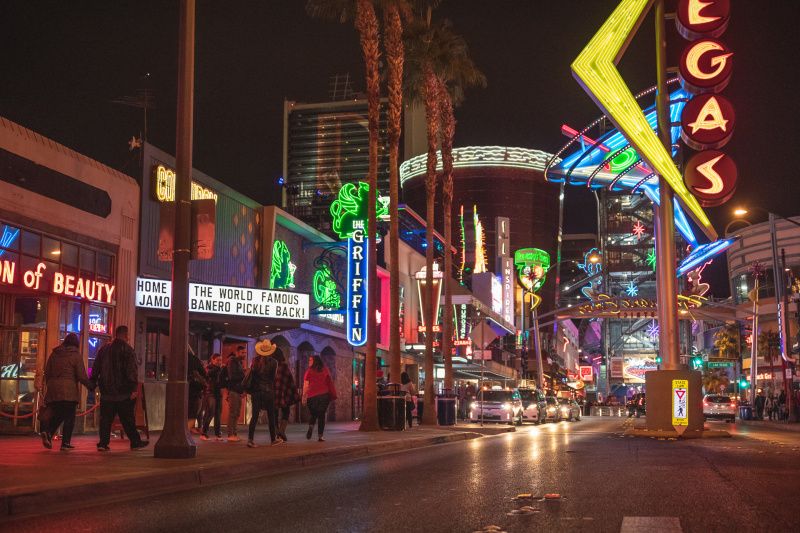 Museums Worth Visiting:
The Neon Museum
The Neon Museum is a collection of the neon signs of businesses in Las Vegas, detailing the history of the city and its iconic Strip. The museum has a "boneyard" of old signs, some of which have been restored to their former glory. Visitors can explore the boneyard or take a tour of the museum and yard to learn about the museum's restoration projects.

The Neon Museum is an accessible venue, making it an excellent choice for a self-guided activity in Las Vegas. The boneyard is covered in fine gravel that can easily be navigated in powered and unpowered wheelchairs, and service animals are welcome. Free parking is available in the lot behind the Boneyard park.
Reserve your Neon Museum tickets!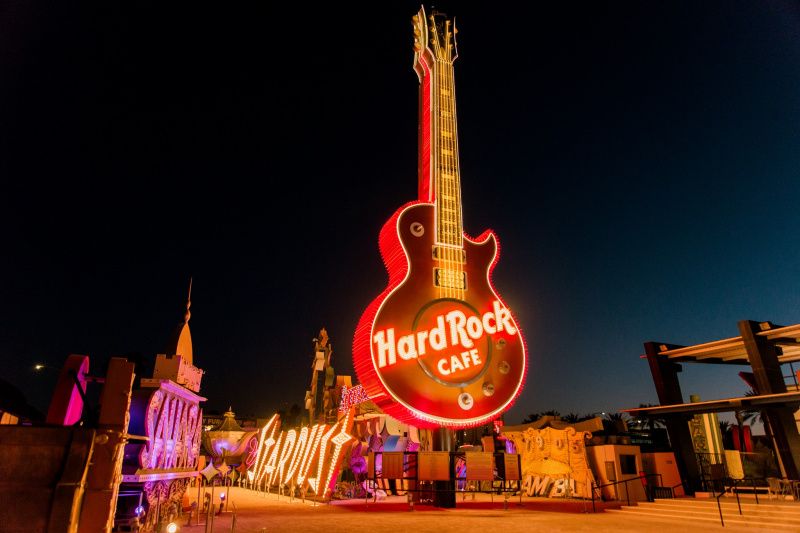 The Mob Museum
The Mob Museum is a fun and interactive accessible museum housed in Las Vegas' first ever Courthouse. On your self-guided tour, you can explore the history of the Mob in the United States and learn about the impact that organized crime has had on society. The museum has many multimedia displays and artifacts, which bring the story of the Mob to life.

The Mob museum is an accessible destination, with 4 accessible parking bays and a wheelchair lift to the main entrance. Wheelchairs are available to borrow free of charge during your visit and are distributed on a first-come, first-served basis. Service animals are welcome and one support person can be admitted free of charge.
Reserve your Mob Museum tickets!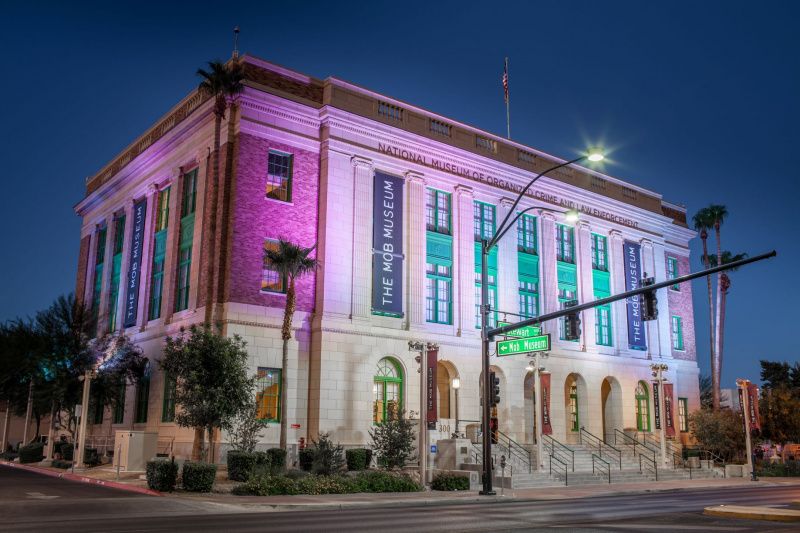 Catch a Show! Or two, or three...
This is a must-do in Las Vegas. As one of the top entertainment cities in the world, there are various types of shows happening all the time! This article would be way too long to list all of the options to choose from, so make sure to research which ones are happening during the dates of your visit, and pick the one that peaks your interest. Of course, Cirque du Soleil is a classic show in Vegas and is definitely worth buying a ticket.
Escape the City and Head to Hoover Dam
If you want to get out of the crowded streets and high energy of Vegas, the Hoover Dam is just over a 30-minute drive away and is worth a visit. It is the second-tallest damn in the U.S and offers beautiful views over Lake Mead. You can book a tour of the facility and is accessible to wheelchair users. Make sure to communicate ahead of time so that the tour guide will be aware and can accommodate you the best they can.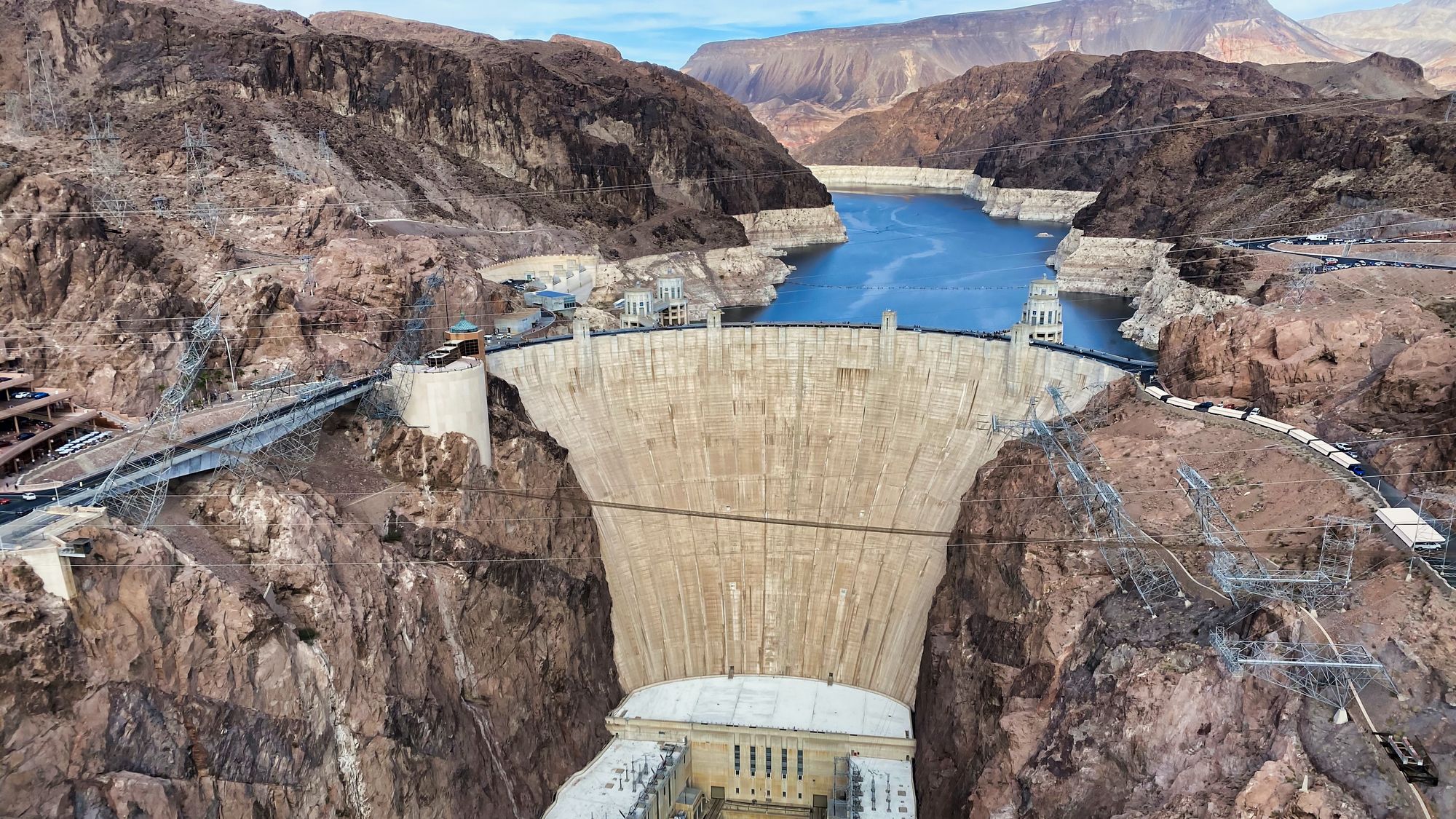 Conclusion
Las Vegas is filled with endless things to do, and these 10 experiences only scratch the surface of the options you will have at your disposal. However, these are must-do activities that should be on the top of your list when you travel to Vegas. Happy travels!
---
Find and Book Your Vegas Activities
---
Accessible Travel Facebook Community
A community of over 6,800 members to discuss accessible travel, seek advice, and meet others.