12 Wheelchair Accessible Experiences in New York City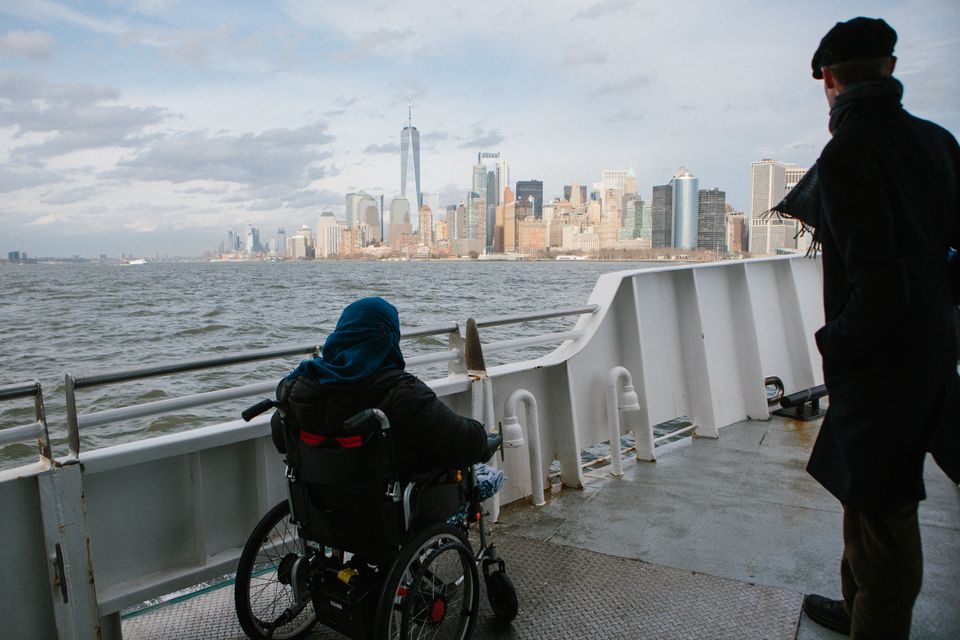 New York City is a wheelchair accessible dream when it comes to finding things to do and see. They have everything you could look for. Iconic attractions are nestled throughout, charming parks where you can relax and take in vibrant energy, 360 degree views of the city, and tours on the water where you can see the stunning skyline. Oh, and you can't forget the various cuisines of some of the best food you'll ever have - but we may need an entire separate article to suffice all that information.
Wheelchair Accessible Attractions in NYC
Top of the Rock at Rockefeller Center
A staple New York buildings, Rockefeller Center has an observation deck called Top of the Rock. With views to Central Park and the Empire State Building, the historic building tells the story of its evolution through time and is luxuriously decorated.
Both the Rockefeller Center and Top of the rock are wheelchair accessible. Entrances are step-free and guides are trained to help people with disabilities choose the correct path suitable for their needs. All floors are accessed via elevators and accessible restrooms are available on the 66th floor. Service dogs are welcome every step of the way.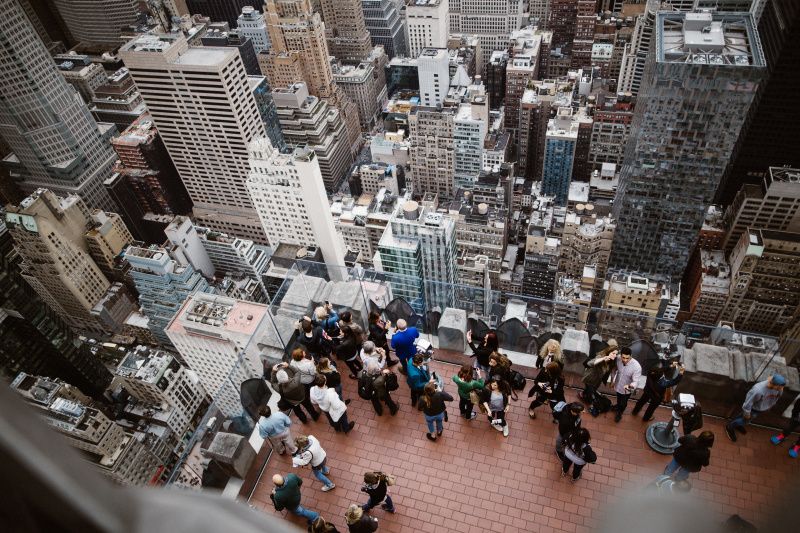 Statue of Liberty and Ellis Island
The iconic 111 ft. Statue of Liberty stands as a must-see emblem of history. Immerse yourself in the historical significance of the Statue of Liberty and Ellis Island. Both sites offer wheelchair accessibility and you will find available wheelchairs on a first-come, first-served basis. The ferries are that take you to these landmarks are accessible as well.
All of the buildings on both islands are accessible, and restrooms are available in the Monument and near all food and beverage areas. At the Statue of Liberty, elevators are available to provide access to the Ft. Wood Promenade area.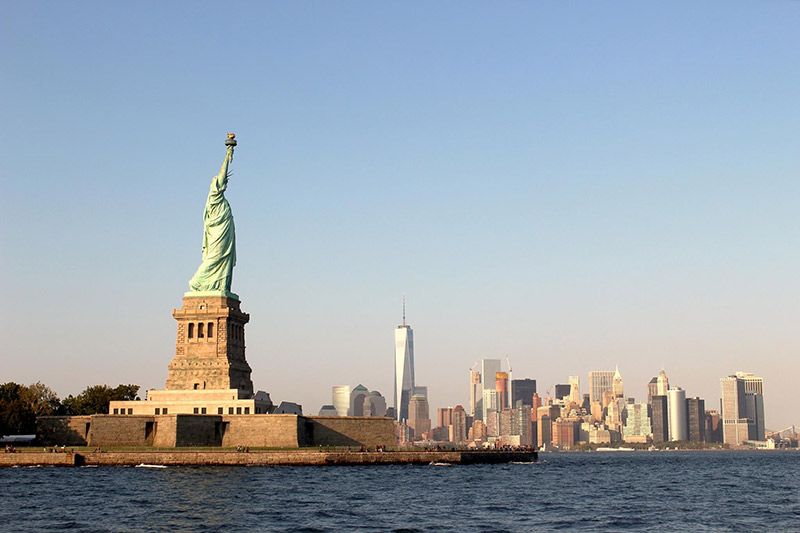 Brooklyn Bridge
The Brooklyn Bridge is a must-see for any tourist visiting NYC. Enjoy a self-guided visit to the bridge to see the sights of New York from a different angle. Built in 1883 and designated as a National Historic Landmark in 1964, the Brooklyn Bridge connects the boroughs of Brooklyn and Manhattan. It has 2 large arches, with the bridge held in suspension by long cables. Tourists flock to the bridge every day to admire the panoramic views across New York City, and to pose for photos under the iconic arches of the bridge.
There are pedestrian lanes that go across and are accessible for wheelchair users, with entrances to the bridge on Centre Street on the Manhattan side and on Tillary or Adams Street from the Brooklyn side. There is an incline to get up to the bridge, but it is quite gentle and shouldn't drain the batteries of motorized wheelchairs. The pedestrian lane is smooth, but be aware of passing cyclists in the nearby cycle lane. It is recommended to cross the bridge very early as it can become extremely crowded during the day time, with a heavy flow of traffic until approximately 11 PM.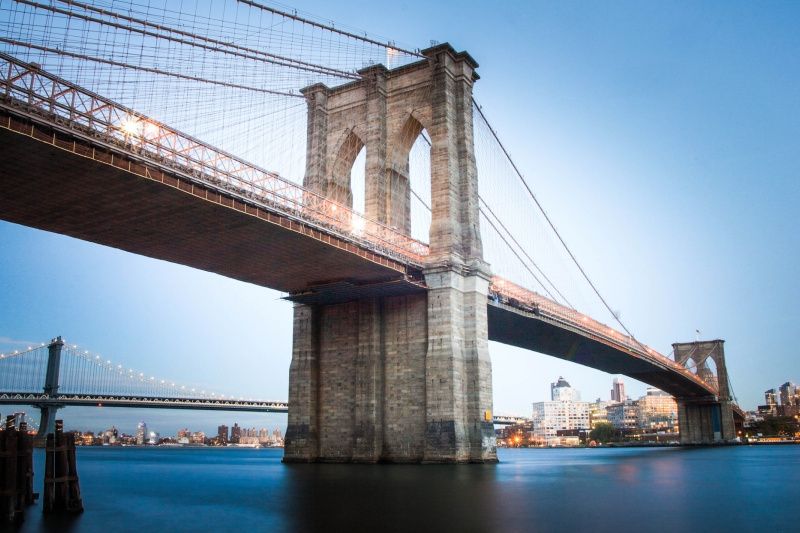 Empire State Building
The Empire State Building opened in 1931 and still holds on to some of its original design. At the spectacular lobby, you will find art deco references and exhibits that go through the history of the building and its significance in pop culture. On the 80th floor, there is a 360-degree platform where you can enjoy New York's Skyline.

Visiting the Empire State Building observatory is an accessible experience. The observatory is accessed via ramps and elevators, it has an accessible restroom, there are lowered binoculars and walls, and service dogs are allowed. You can also download the Empire State Building Guide app and access audio tours in many languages.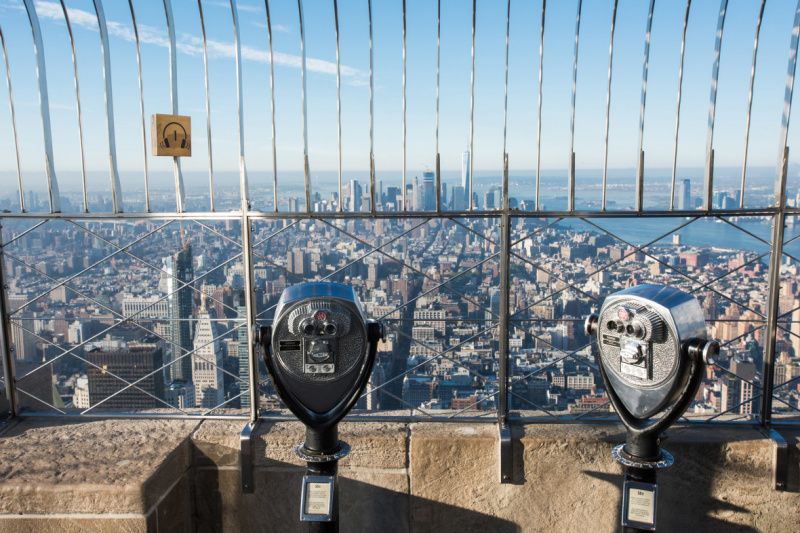 One World Trade Center and Observatory
Set in the tallest building in the United States, One World Observatory has a privileged view of the iconic New York Skyline. One World Trade Center boasts over 100 floors, has a cafe, a restaurant and bar, and a gift shop. Built after the tragic loss of the twin towers in 2001, this place commemorates its victims and celebrates the strength of the American spirit.

The building and the observatory are wheelchair accessible. All floors are accessed via speedy elevators, there is an accessible pick-up and drop-off location along West Street, and accessible restrooms with changing rooms are available. Service animals are welcome!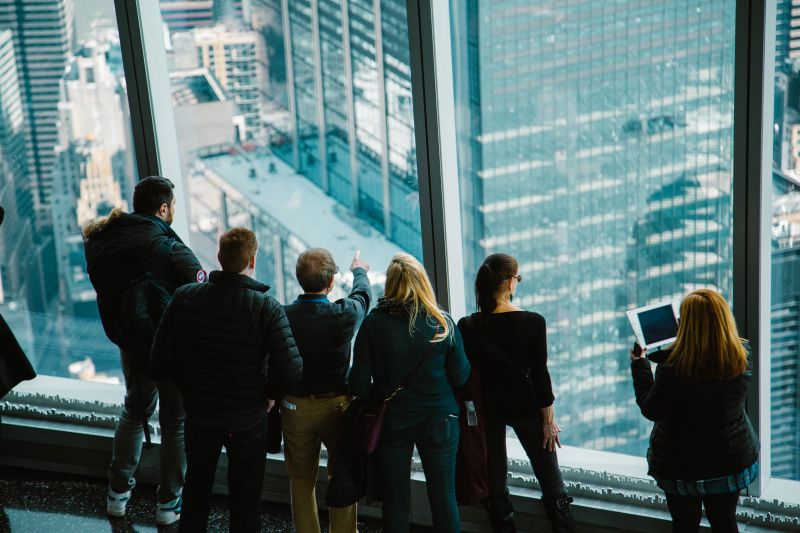 Wheelchair Accessible Things to do in NYC
Visit the Museum of Modern Art
On a self-guided accessible tour, you can visit the Museum of Modern Art, one of the world's most influential art galleries. Explore the exhibits from famous artists all around the world. All galleries, entrances, restrooms and facilities are wheelchair-accessible and wheelchairs can be borrowed onsite.
The MoMA houses more than 500,000 pieces over 6 floors of gallery spaces. Visitors can see famous works of art such as Van Gogh's Starry Night and Andy Warhol's Campbell Soup cans.

There are regular special exhibitions and events at MoMA, such as talks and screenings of foreign films. Visitors can also reserve spaces in workshops and participate in interactive educational sessions at the MoMA classrooms.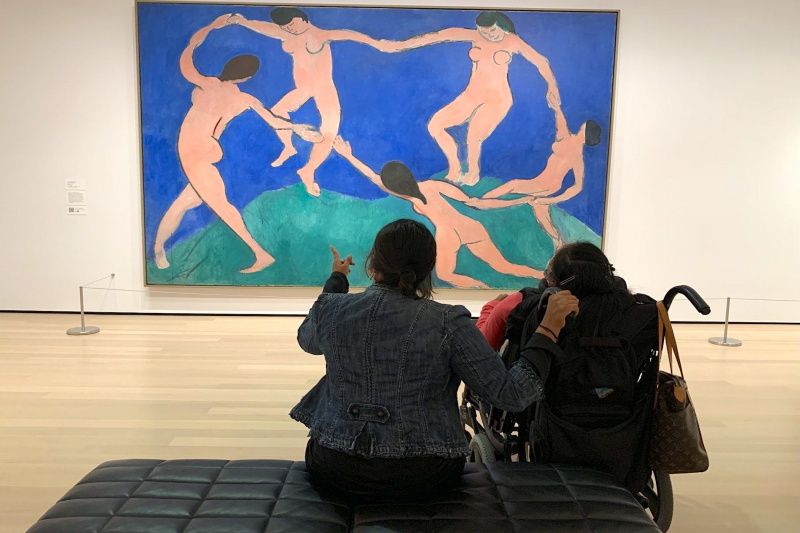 Take a Sailing Cruise in Manhattan
Conquer the high seas (or just the New York Harbor) on the Manhattan Boat Tour! This sailboat excursion is the tour of your dreams. Ideal for a romantic date, a family outing, or trip for an out-of-town visitor, the boat tour sails through the NYC Harbor, closely passing The Statue of Liberty, Ellis Island, and Governors Island, offering the best views of NJ and the NYC skyline. This topsail schooner is accessible from bow to stern. With a crew happy to assist with any need and masts raised 12 stories high, you'll get to traverse New York in a way very few ever get to experience.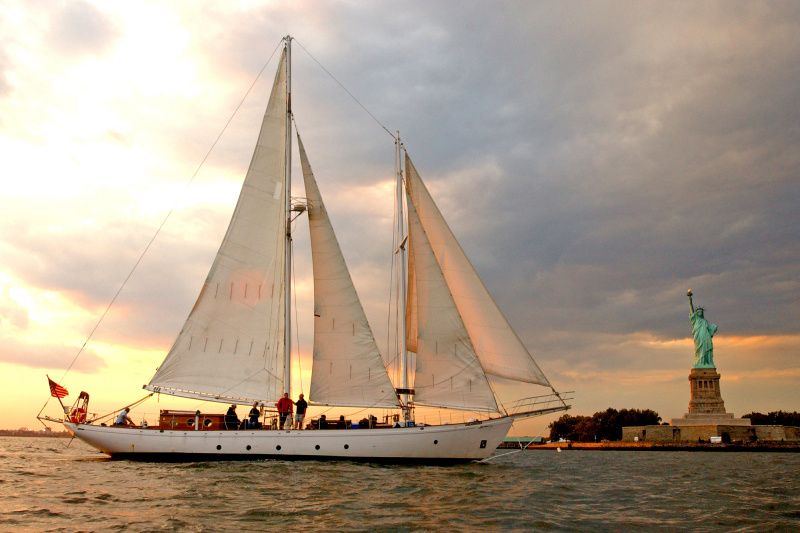 Explore the Botanic Gardens of Brooklyn
On this self-guided visit, you can get to know the Brooklyn Botanic Gardens, a 21 hectare park with over 18,000 kinds of plant species. You can explore the gardens at your own pace, in a calm soothing atmosphere that feels far away from the busy streets of New York. The gardens are open all year round and the exhibits are carefully timed to bloom at different times, meaning that there's always something to see regardless of the time of year that you visit.
The Botanic Gardens are accessible for people with disabilities, with wheelchair-accessible entrances and free wheelchairs available to borrow on a first come, first served basis. Carers are admitted free of charge and service animals are welcome. Accessible restrooms can be found in the visitor center. Keep in mind that although many specialty gardens are step free, some paths may be uneven or steep due to the historic nature of the gardens.
Take a Flight Tour for Ultimate NYC Views
Fly over New York City's legendary skyline on a helicopter during a 20-minute tour of the big apple. See the spectacular Jersey Palisade peaks and get an up-close view of the world-famous Statue of Liberty and Ellis Island. All of the city's top tourist attractions will be covered. Guests will fly over the Empire State Building, the One World Trade Center, Central Park, Times Square, Columbia University, and the Yankee Stadium on non-game days.

Guests will meet their guide and watch a short instructional safety video before boarding the aircraft. Wheelchairs do not fit into the helicopter, but crew members have experience assisting people with disabilities and are available to help will whoever needs it into a seat and out. During the whole tour, you will learn more about the city, its history, and landmarks while listening to your guide's comments. An accessible bathroom is available before and after boarding the helicopter.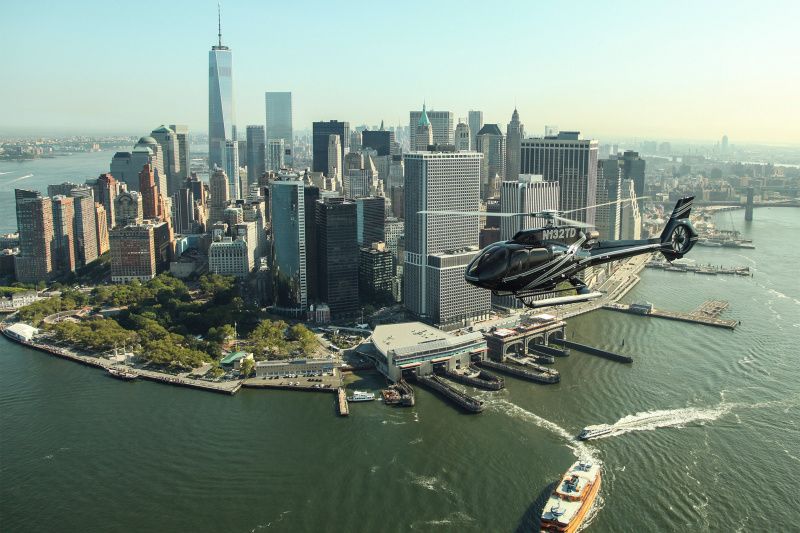 Watch a Show on Broadway
One of the most popular attractions in New York City is seeing a show at the famous Broadway theater. With shows happening most days of the week, all year around, there is sure to be a show you will want to see during your NYC visit. There are certain sections in the theaters that are accessible, so when you book a ticket, make sure to contact the theater and notify them of your requirements. It is best to book in advance to ensure the right accommodations.
Spend Some Time at Bryant Park
This 9.6 acre park is an assortment of just about everything. Games, live music, exercise classes, shopping, food, tours, gardens, events, and so much more. It is a perfect place for families and people of all ages, with always something to do. The park is wheelchair accessible, and they have maps that are marked with all the accessible entrances. You can browse the schedule of upcoming events and happenings here.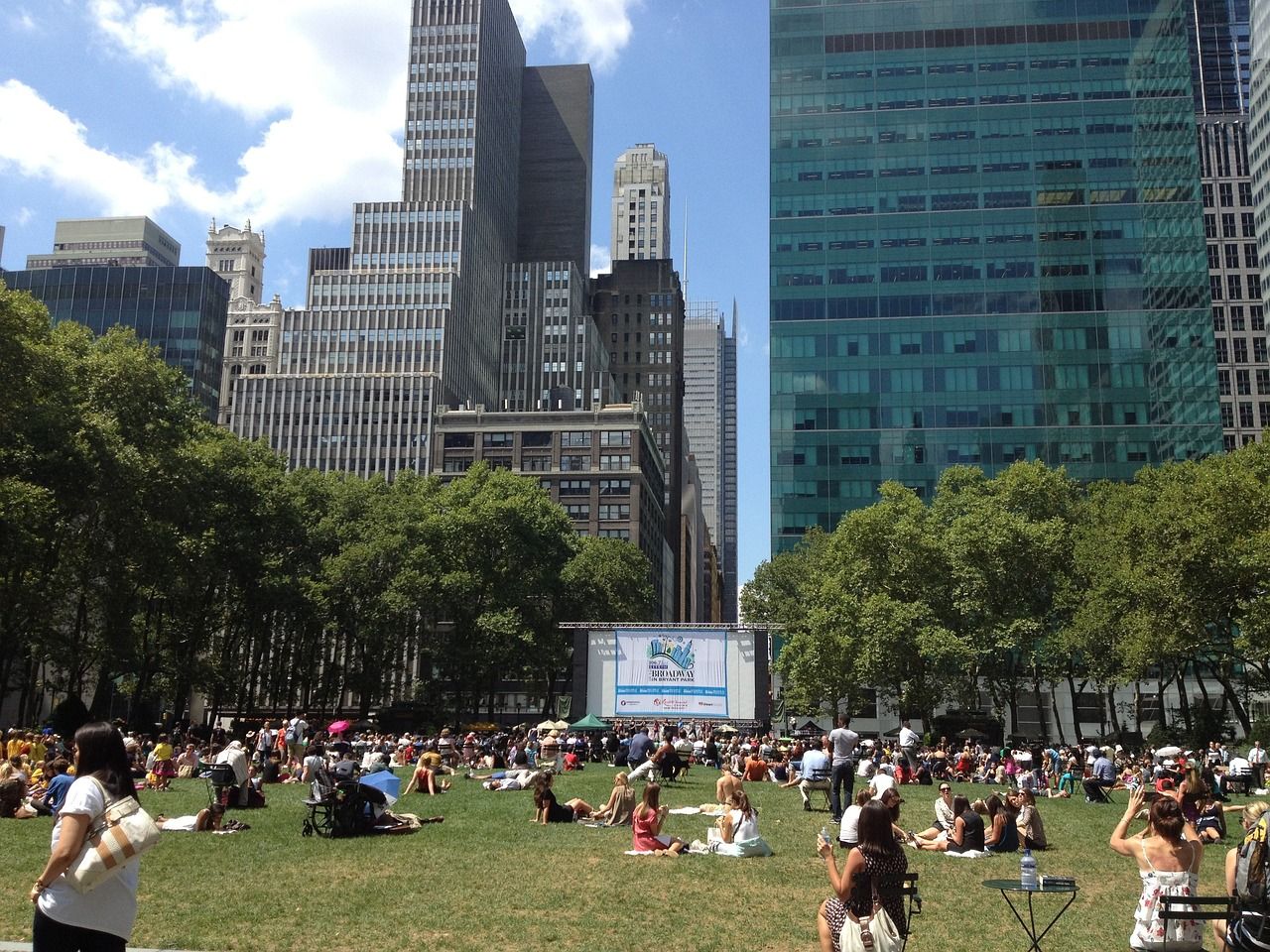 Take a Stroll through Central Park
You're in NYC, right? Central park is a must. It's an accessible green space with ponds, playgrounds and a zoo in the heart of an urban jungle. The park was designated a National Historic Landmark in 1963 and has been awarded many prizes for its innovative architecture and use of space. It welcomes over 42 million visitors annually. The park has many attractions, such as the Central Park Zoo, and you can also enjoy a horse drawn carriage ride or rent a bicycle to explore some of the lesser-known areas of the park. Many events take place in Central Park, from live shows to thematic lighting to guide rambles and private tours. It's also a great place to do sport or to lie on a picnic rug and take a moment to relax. The park is open from 6 AM to 1 AM daily. It is accessible for people with disabilities, with several wheelchair-accessible entrances and accessible restroom facilities. Many paths are wide and paved, with smooth flat surfaces, although some areas of the park have unpaved paths. Some playgrounds are also adapted for people with disabilities, with equipment such as adapted swings for wheelchair users.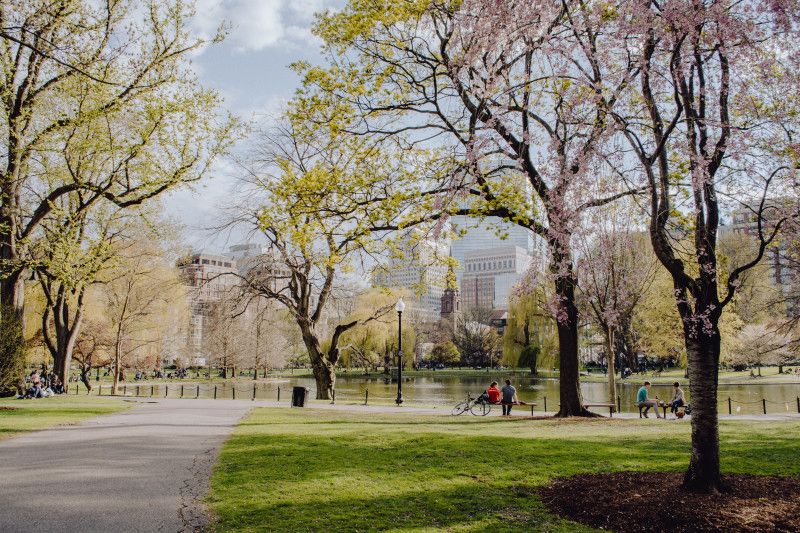 Bonus Activity: Try a NYC Food Tour
This is New York City, treat yourself! If you're feeling adventurous and want to spice things up a bit, a NYC food tour may be the way to go. With diverse cultures and neighborhoods, you can try some of the best food this city has to offer.
Brooklyn Bridge & DUMBO Food Tour
On this 3-hour culinary guided tour, you will explore one of New York's hottest boroughs: Brooklyn. You will stroll through hip neighborhoods such as Brooklyn Heights and DUMBO, stopping at the best eateries. Slices of pizza, pastries, and other iconic New York dishes will be part of the menu for you to experience the city, its food, and its landscapes as a true New Yorker. Although the city can get crowded and difficult to navigate, guides will be able to assist you if needed. Make sure to arrive hungry!
Private Guided Tour of Chelsea Food Market and the High Line
On this accessible, foodie tour, you'll explore New York's unique High Line neighborhood with a guide and taste delicious food from a famous market. The private tour can be customized to suit your interests and itinerary. This 4-hour tour features a walk along the High Line, a green corridor above the city built on a disused railway line. Your guide will tell you about the High Line and the local ecosystem and will then take you to Chelsea Market, where you can get samples of international cuisine from the market stalls such as New York pizza and sweet exotic treats. All tour options include a knowledgeable local guide who can answer your questions and give you great tips on how to make the most of your time in the city.

All tour options are accessible to people with disabilities. Many of the stops have accessible bathrooms and most places can be navigated independently or require minimal assistance. Your trained guide can help you, if you wish.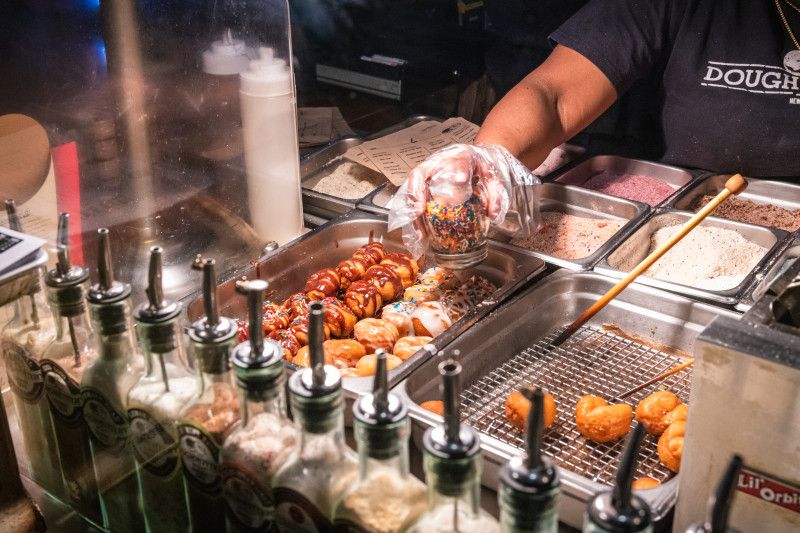 New York City 3-day Accessible Trip
Explore and enjoy New York without limits! This 3-day travel bundle includes a guaranteed accessible room at 3-star Hilton Garden Inn New York Times Square Central, an accessible shuttle service with a vehicle fitted with a wheelchair ramp, and an electric scooter rental.
Learn More