The 14 Best Wheelchair Accessible Experiences in Miami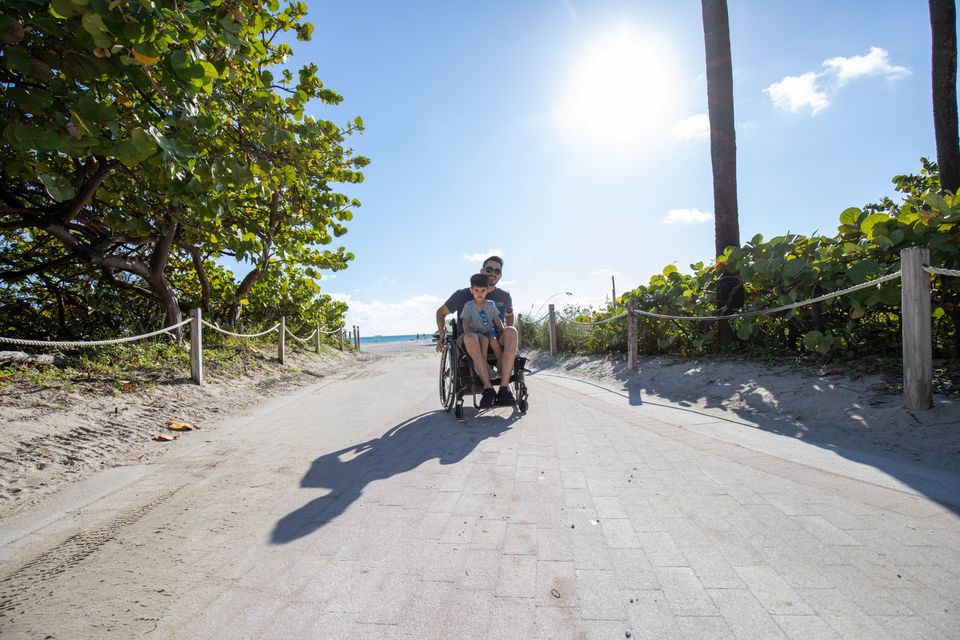 Aside from its warm and sunny climate, Miami holds unique architecture, diverse neighborhoods, and beautiful beaches - with plenty of them to explore. Miami's distinct culture also sets it apart from other cities in the U.S. It has a thriving music scene with various genres, remarkable museums, and an artistic flair that reflects the rich history and heritage of the region. You will notice colorful walls and murals while exploring the neighborhoods of Miami, something that the city is known for. Oh, and when the sun sets, Miami's nightlife comes alive like no other. It's undeniably one of the best wheelchair-accessible destinations in the U.S, and this article will highlight the reasons why. And don't forget to bring your camera!
Wheelchair Accessible Attractions and Things to Do in Miami
1. Bayside Marketplace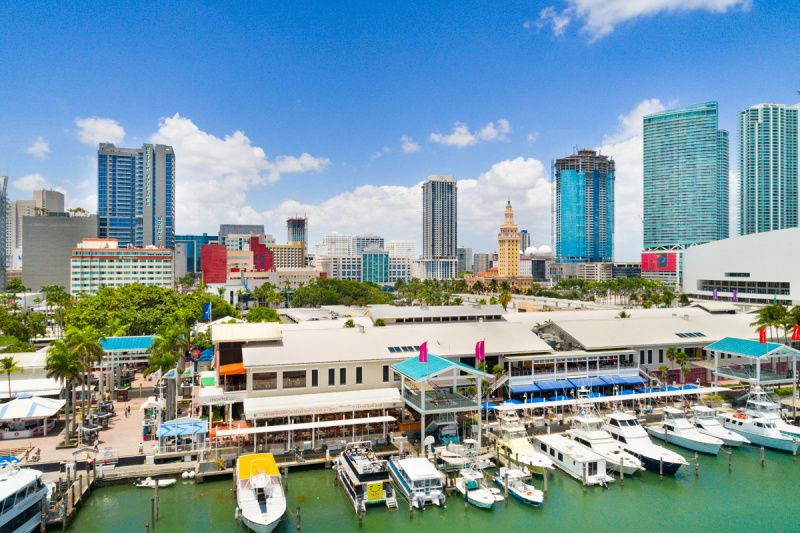 Bayside Marketplace is a two-level open-air market bursting with popular shops, restaurants and bars. It is one of the most visited attractions in Miami and is set in the heart of the downtown area - a great spot to admire the waterfront and city skyline. You can also find events such as live music and shows suitable for the whole family.
Bayside Marketplace is fairly easy to navigate independently, with mostly smooth level floors and there are accessible public restrooms next to the elevators. If you are in the southwest end of the marketplace, there is an elevator between the floors. The bar and restaurant area in the center of the marketplace are accessed via ramps.
There are some accessible parking spots in the parking lot. There are four accessible van parking spaces available, two at the south service road in front of Bayside, and an additional two behind the Hard Rock Cafe. There is also an adjacent parking garage with accessible parking, but these are not free. If none of these previous options are vacant, Biscayne Boulevard has two accessible parking spaces per lot.
2. Visit The Bass Museum of Art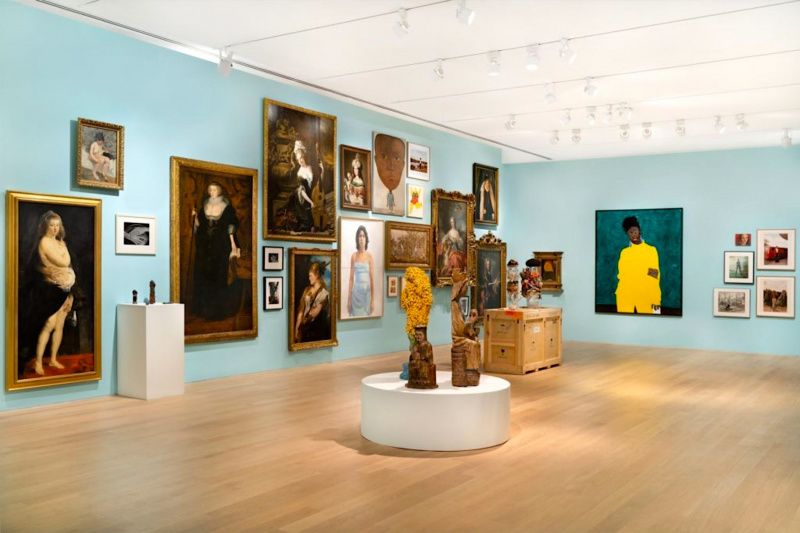 An accessible art museum and educational facility, The Bass Museum of Art is one of the most prestigious art museums in Miami Beach. Situated in the historic Art Deco district, the museum was founded in 1964 by Jewish immigrants John Bass and Joanna Redlich, who arrived in Miami from Vienna. The couple were dedicated art collectors and bequeathed more than 500 works to the city of Miami beach, including Old Masters and sculptures. You will have a chance to explore some of the permanent collections, featuring works from a variety of noted artists. The onsite Creativity Center, containing a multimedia lab and 2 classrooms, is the focal point for the educational programs at The Bass Museum of Art, and is one of the largest museum-based educational facilities in the county.
The museum is accessible for visitors with disabilities. The building is wheelchair-accessible and service animals are welcome. Except from the main entrance, there are two entrances with ramps and handrails suitable for wheelchair users. Various amenities are provided for guests with visual or auditory impairments, such as large print guides and assisted listening devices. Upon reservation at least 2 weeks in advance, the museum can also provide sign language tours.
3. Explore the Institute of Contemporary Art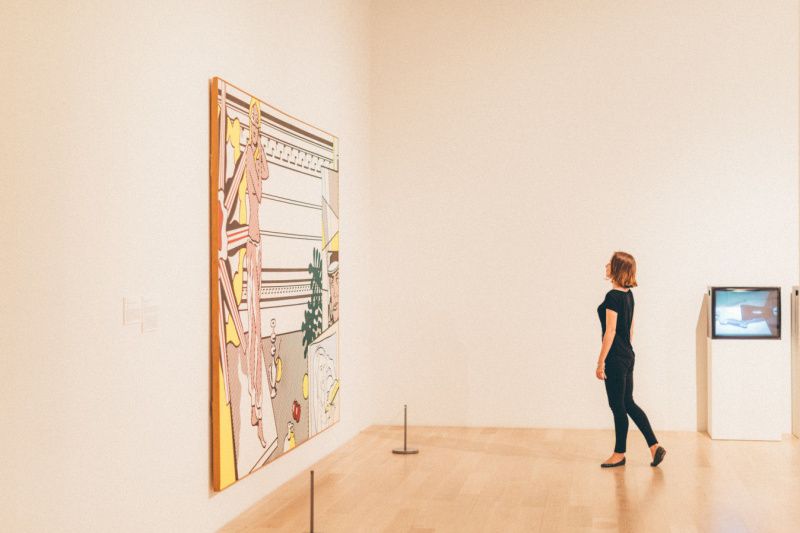 On your visit to Miami, make sure to visit the Institute of Contemporary Art, situated in Miami's Design District. Open since 2017, this modern and welcoming space provides a forum to admire contemporary art, discover new artists and learn about Miami's art scene. On your self-guided visit, you can explore the institute's permanent collection and temporary exhibitions. The permanent collection features works from contemporary artists such as Claudia Andujar, Tau Lewis and Lyle Ashton Harris.
The ICA Miami is fully accessible to people with disabilities, including wheelchair users. There is a wheelchair-accessible entrance operated by buttons and all 3 floors of the institute are accessible via an elevator. Accessible bathrooms can also be found on each floor. In addition, several accommodations have been made for people with other kinds of impairments. Sensory-friendly kits can be provided for visitors with autism and visually impaired people can make use of the free audio guides and large print guides. Upon reservation at least 2 weeks in advance, guided tours of the museum in American Sign Language can also be provided free of charge.
4. Visit the Zoo Miami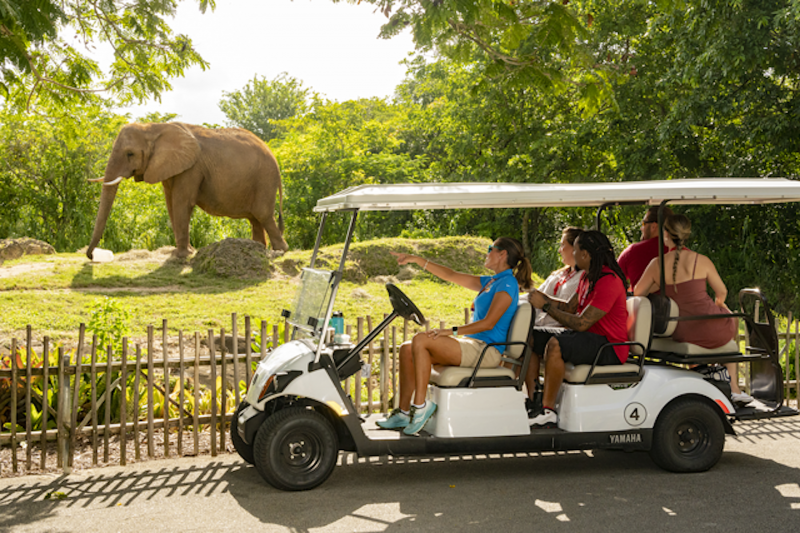 Perfect for the whole family! Explore this accessible park and see some of the thousands of animals that live in the park. Zoo Miami stretches over 750 acres and visitors can travel the world in one day! You will visit Africa, Asia, the Amazon, and more. Each of these areas houses animals from that region, some of which are endangered species. Zoo Miami takes part in many conservation initiatives and has many informational displays about protecting animals and preserving their natural habitats. Additionally, they have many wildlife presentations and 'Meet the Zookeeper' events. Because the zoo is so large, you'll want to carve out most of the day to get the most of out it.
The park is accessible to people with disabilities and service animals are welcome. There is a monorail and a safari tram, both of which explore the park and exhibits and can accommodate up to 2 wheelchairs each. It's possible to rent wheelchairs onsite for an extra charge and guests can reserve their wheelchair rental in advance.
5. Explore Little Havana with a Guided Tour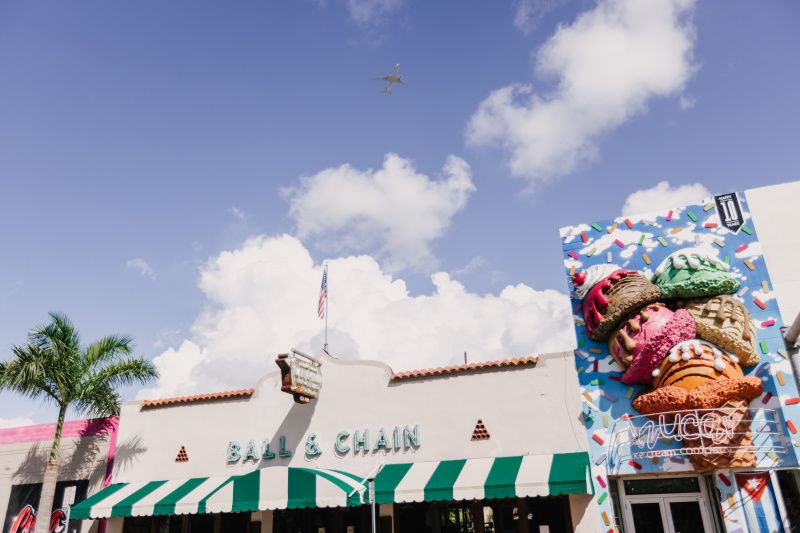 Miami is famous for its Latin influence and Little Havana is a great example of that. A Miami neighborhood where Cuban people gather and Latin music, art, and culture, in general, can be enjoyed. Taste some delicious Cuban cuisine and explore this amazing neighborhood. This place is a happy reminder of how multicultural influences impact big cities in the best way possible.

For the best experience, you can opt in for a guided tour. This has many stops to savor Cuban cuisine: empanadas, medianoche sandwiches, plantains, and other dishes that are included. Don't forget to stop at the many art galleries and enjoy live Latin music.

Guides have experience working with people with disabilities, accessible restrooms will be available at multiple locations, and places can be navigated independently by wheelchair users.
6. Art Deco Historic District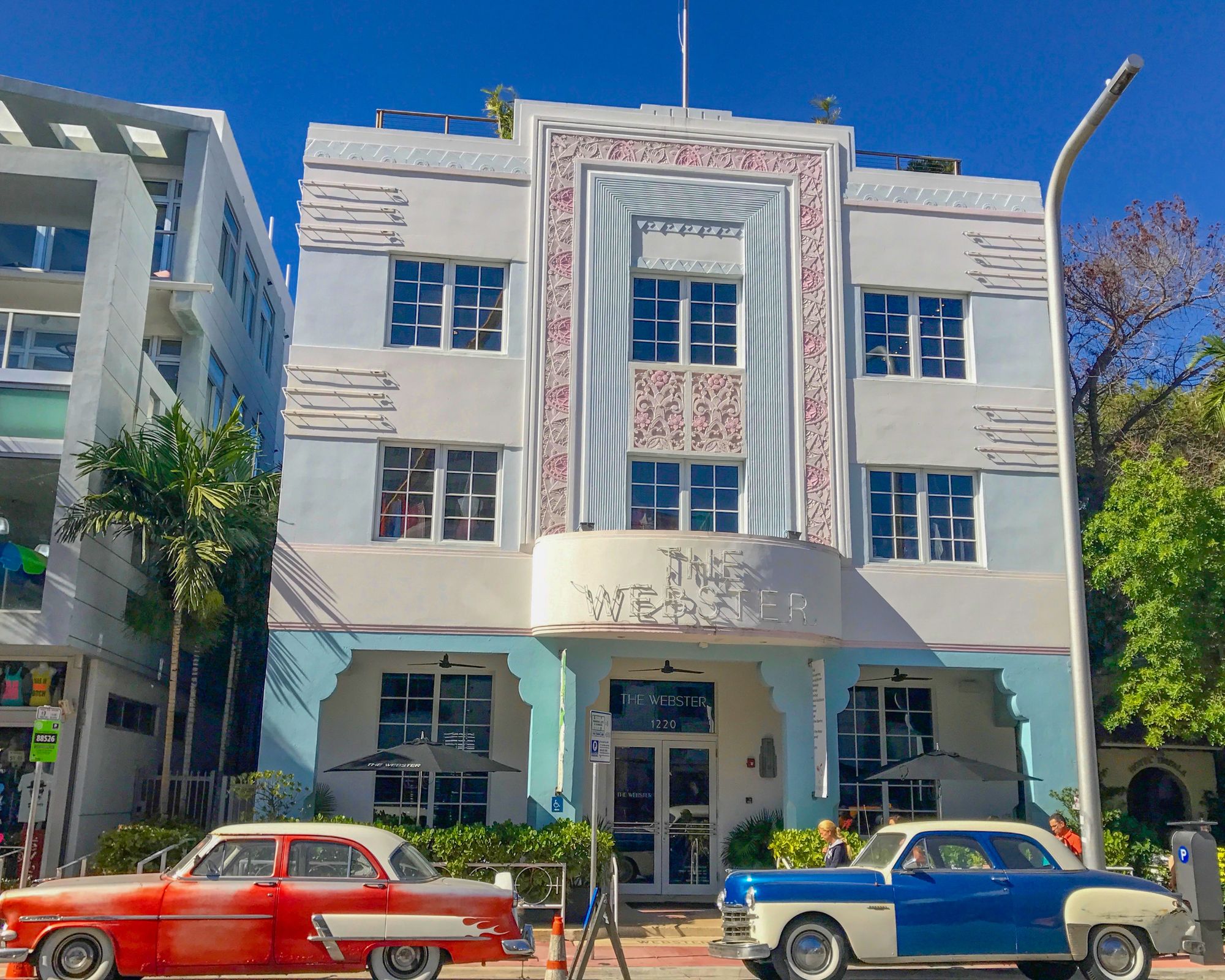 One of the best places to hang out and explore is the vibrant Art Deco District, located between 5th Street and 23rd Street. This neighborhood is packed with history and personality and is also accessible for visitors with disabilities.
The Art Deco period refers to buildings dating from the mid 1920s to the 1940s which have characteristics such as bright pastel colors and smooth façades with rounded corners, inspired by the cruise liners that were popular at the time. The district has been preserved thanks to the committed action of local historians, leaving many buildings thriving today that would have otherwise been demolished.
Some of the best examples of Art Deco architecture can be seen on the world-famous Ocean Drive, such as the Celino Hotel. Walking north up Ocean Drive, be sure to cross onto Washington Avenue via 13th Street to catch a glimpse of the Art Deco Miami Beach Post Office, possibly the most aesthetically pleasing post office in America.
Many of the bars and restaurants in the area are accessible for wheelchair users and some also have provisions for guests with visual impairments. If you're in the mood for Cuban food then head to Larios On The Beach. Alternatively, if you want to party a bit, then don't miss the C-Level rooftop terrace at the Art Deco-style Clevelander Hotel, which serves craft cocktails to be sipped while admiring the stunning ocean views.
Much of the Art Deco district is wheelchair accessible, with wide smooth sidewalks and level surfaces. Moreover, most venues such as bars and restaurants have accessible bathrooms.
7. Biscayne National Park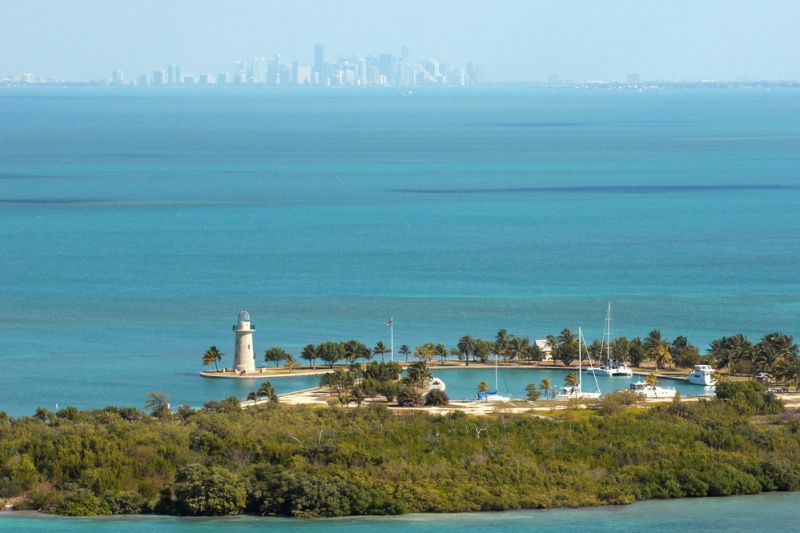 Biscayne National Park is unlike any other American national park, as the park is 95% water. The park is located within sight of downtown Miami but feels a world away from the hustle and bustle of the city. It encompasses areas of mangroves, as well as a coral reef, the Florida Keys and the expanse of Biscayne Bay.
On this accessible, self-guided tour, you can discover a unique national park with four ecosystems, 600 species of fish and other kinds of fauna, including sea turtles and manatees.
The park's islands, reefs, and other natural attractions of the park are only accessible by boat, however if there is a user willing to drive there he or she can drive to Dante Fascell Visitor Center and from there, take the boat to visit the national park. It is possible to rent a boat onsite to explore at your own pace.
Visitors to the islands will find accessible restroom facilities; however, not all buildings on the islands are wheelchair-accessible and Elliott Key and Adams Key do not have sidewalks. Boca Chita Key has smooth paved pathways around the harbor and to the restrooms, but the rest of the island is unpaved, with grassy and uneven surfaces.
8. Bayfront Park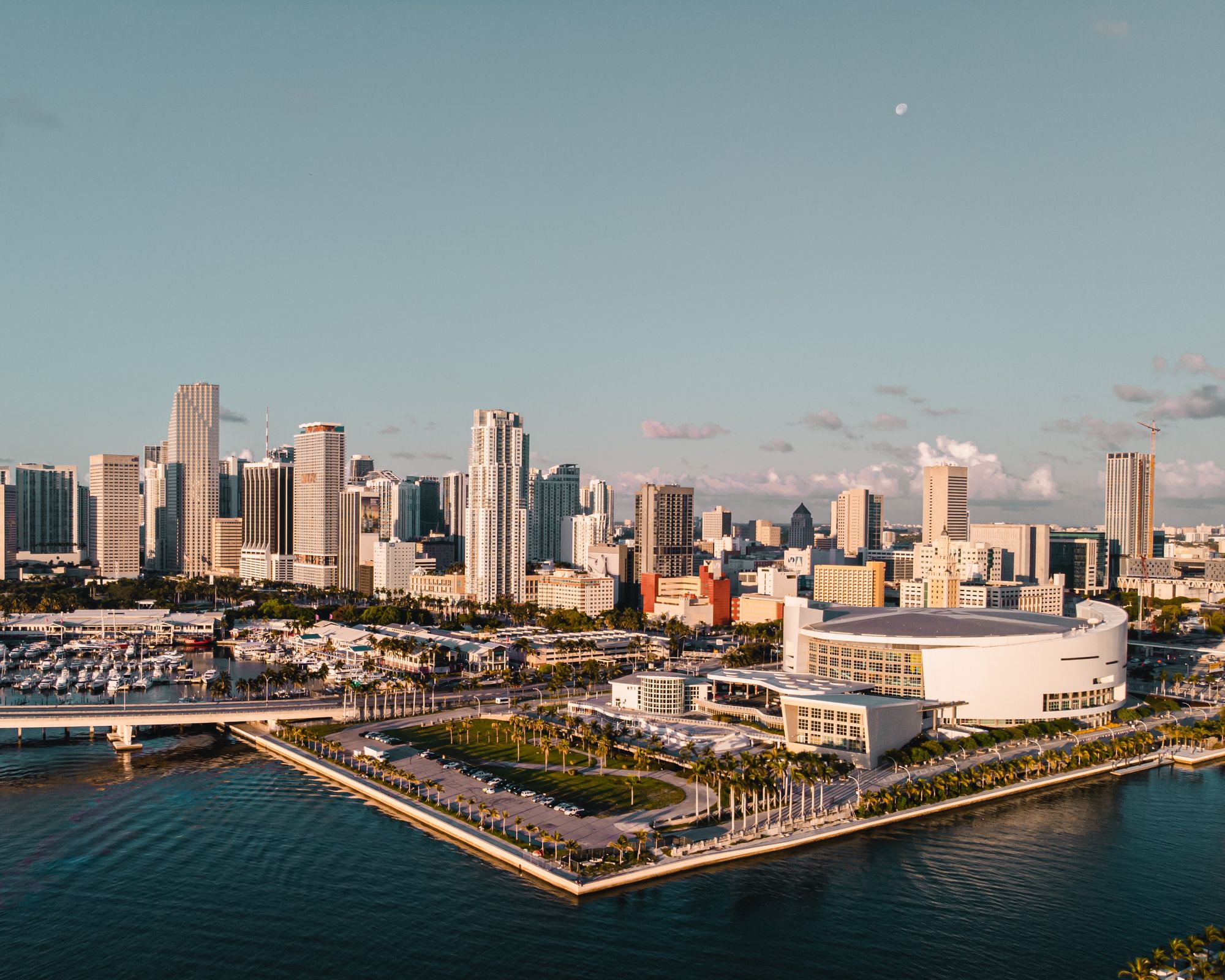 Savor a relaxing day at Bayfront Park, an urban park in the heart of Miami. It is right next to the Bayside Marketplace, so you can explore both on the same day. You can experience this beautiful 32 acre park either during the day or after the sun sets, as the city lights up the park and reflects off the ocean water. Along the way, you will see a collection of monuments, playgrounds, and iconic attractions. There are also two amphitheaters within Bayfront Park that hosts a variety of concerts and events. You can check their event calendar to see what's happening during the dates of your visit.
Surrounding the park there are many restaurant and drink options. Upscale sit down, ones grab-and-go, and several bars. With large grassy areas nestled throughout the park, you can grab some Miami food, relax, and take in the ocean views. The paths throughout the park are accessible and typically smooth, so wheelchair users can navigate the park.
9. Big Cypress National Preserve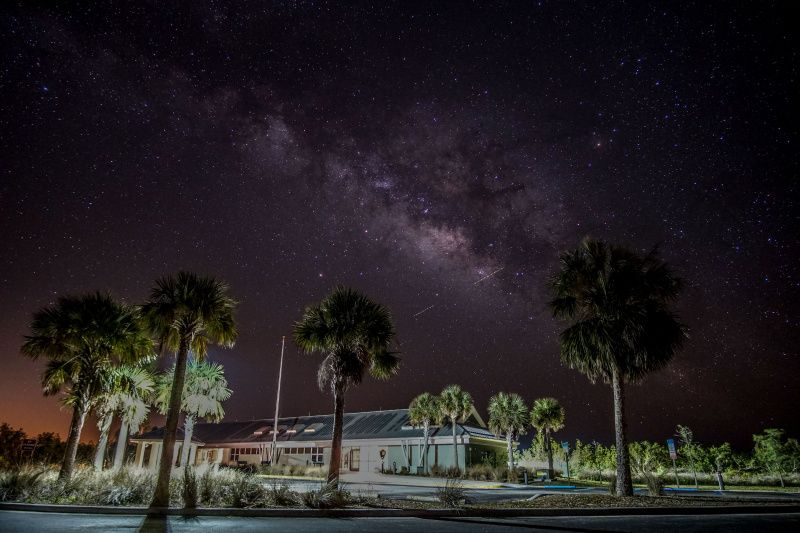 Stretching over 720,000 acres, the park contains 5 natural habitats, all of which are home to different species of flora and fauna. One such habitat is the hardwood 'hammocks', slightly elevated areas of woodland which look similar to tropical forests due to the presence of ferns and vines. Other habitats include the prairie, the swamps, the pinelands and the estuaries, the last of which provides a sheltered environment where marine mammals such as dolphins and manatees can give birth to their young.
During your self-guided tour, you will have time to explore the park and to feel in touch with the natural environment. You can hike on some of the well-marked trails and bring binoculars to spot birds. Visitors exploring the park after dark may be able to see a spectacular night sky filled with stars, as the park is situated in an area of extremely low light pollution.
Big Cypress National Preserve is adapted to accommodate guests with disabilities. The park has smooth boardwalks that can easily be navigated in a wheelchair and the bathroom facilities and visitor centers are wheelchair-accessible. In addition, guests with hearing impairments can pick up informational guides from the visitor center. There are also boards situated throughout the park with illustrations and text about the park's natural and cultural features.
10. Visit the Everglades National Park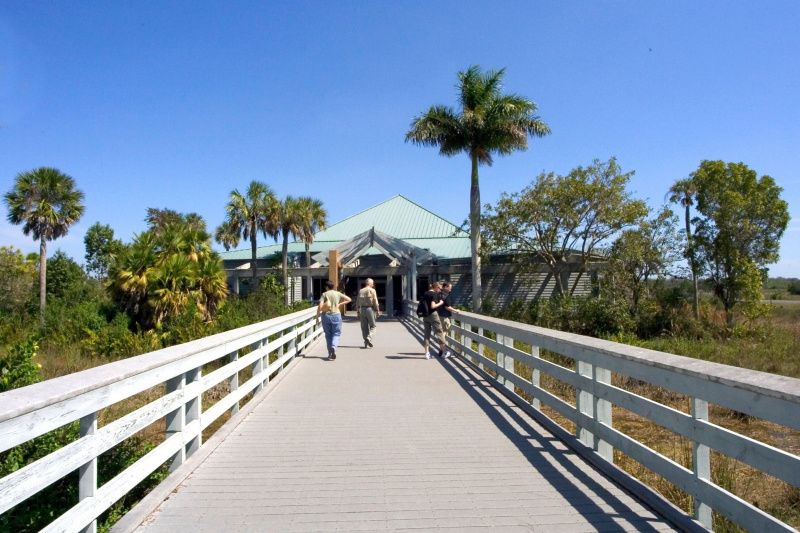 Everglades National Park was constructed to protect the fragile ecosystem of the Everglades, which is the largest tropical wilderness in the United States. It spans 1.5 million acres and is home to hundreds of species of plants and animals.
The park has many interpretative trails, which are designed to allow for easy exploration of a particular natural habitat. Trails are well-marked and lined with informational displays about the nearby flora and fauna. The Everglades National Park is accessible for guests with disabilities. There are 7 trails which are either paved or have a boardwalk and which are less than 0.75 miles in length. Many of the visitor centers are wheelchair-accessible with accessible parking spaces, accessible bathrooms and wheelchairs available to loan on a first come, first served basis.
Everglades Airboat Ride
Experience one of the 'must do' Florida activities. This accessible one-hour airboat tour is led by the oldest Everglades tour operator in the area and has been specially adapted to accommodate visitors with reduced mobility.
You may be lucky enough to spot alligators, herons, turtles, raccoons and the Purple Gallanule, voted Florida's most colorful bird. You will also see a small island which is only accessible by boat and which has an old cabin that used to be a camp for the Glades men. At the end of the tour, you will return to the center and can explore the reptile exhibits, and a 20-minute reptile show is included in your ticket price, as well as the opportunity to hold a baby alligator.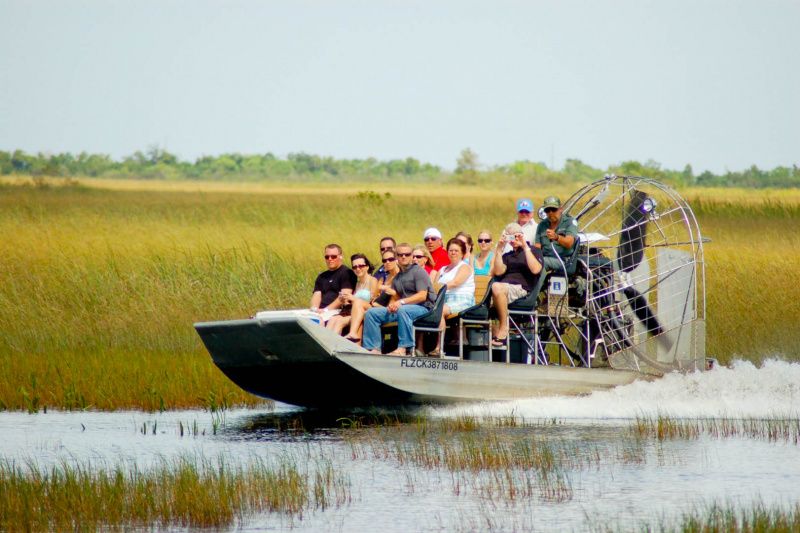 Accessible Beaches in Miami
Is Miami Beach Accessible?
Just next to Miami is known as Miami Beach, where many of the best beaches reside. This town has implemented a range of accessibility measures on many of its beachfronts, from solid pathway entrances to complimentary wheelchair rentals and multiple shoreline access points. We have included the access points with the three beaches located on Miami Beach.
11. Hollywood Beach
During your time in Miami, why not take a trip to the scenic Hollywood Beach where you can enjoy a dip in the blue waters or take in the lively atmosphere? You'll be able to explore the beachfront area which features a whole host of restaurants, bars and stores by strolling along the 2.5 mile-long Broadwalk. This flat, brick-paved walkway stretches from Hollywood North Beach Park to Jefferson Street and is a popular thoroughfare for pedestrians, cyclists and rollerbladers.

The beach features 8 Mobi-Mat wheelchair access mats providing easy access to the white sands at regular intervals along the paved walkway. Beach wheelchairs are available on a first-come, first-served basis from the city's Beach Safety Division.

There's something for everyone at Hollywood Beach, from basking in the sun to sampling tasty treats in the various local eateries, enjoying live music at the bandstand or simply admiring the sun setting over the ocean. It's certainly one of Miami's must-see spots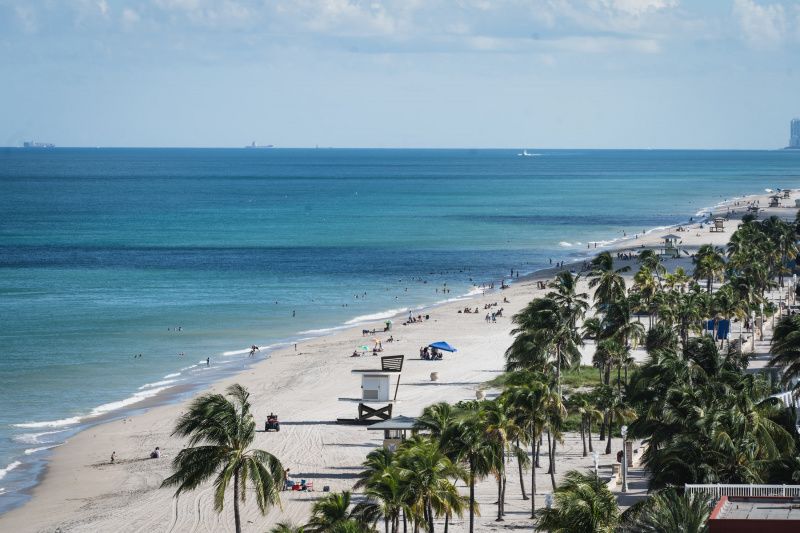 12. South Beach
One of the best beach areas in Miami, South Beach is surrounded by the iconic Art Deco District and Lummus Park. You can find accessible boardwalk pathway entrances, on the street points below:
10th street
14th place
15th street
Lincoln road
17th street
21st street
The City of Miami Beach offers both manual and motorized beach wheelchairs for free on a first-come, first-serve basis to assist those who are mobility impaired. You will need to leave something of value in order to use them, such as a drivers license. The locations to rent these out are 1001 Ocean Drive and South Pointe Park.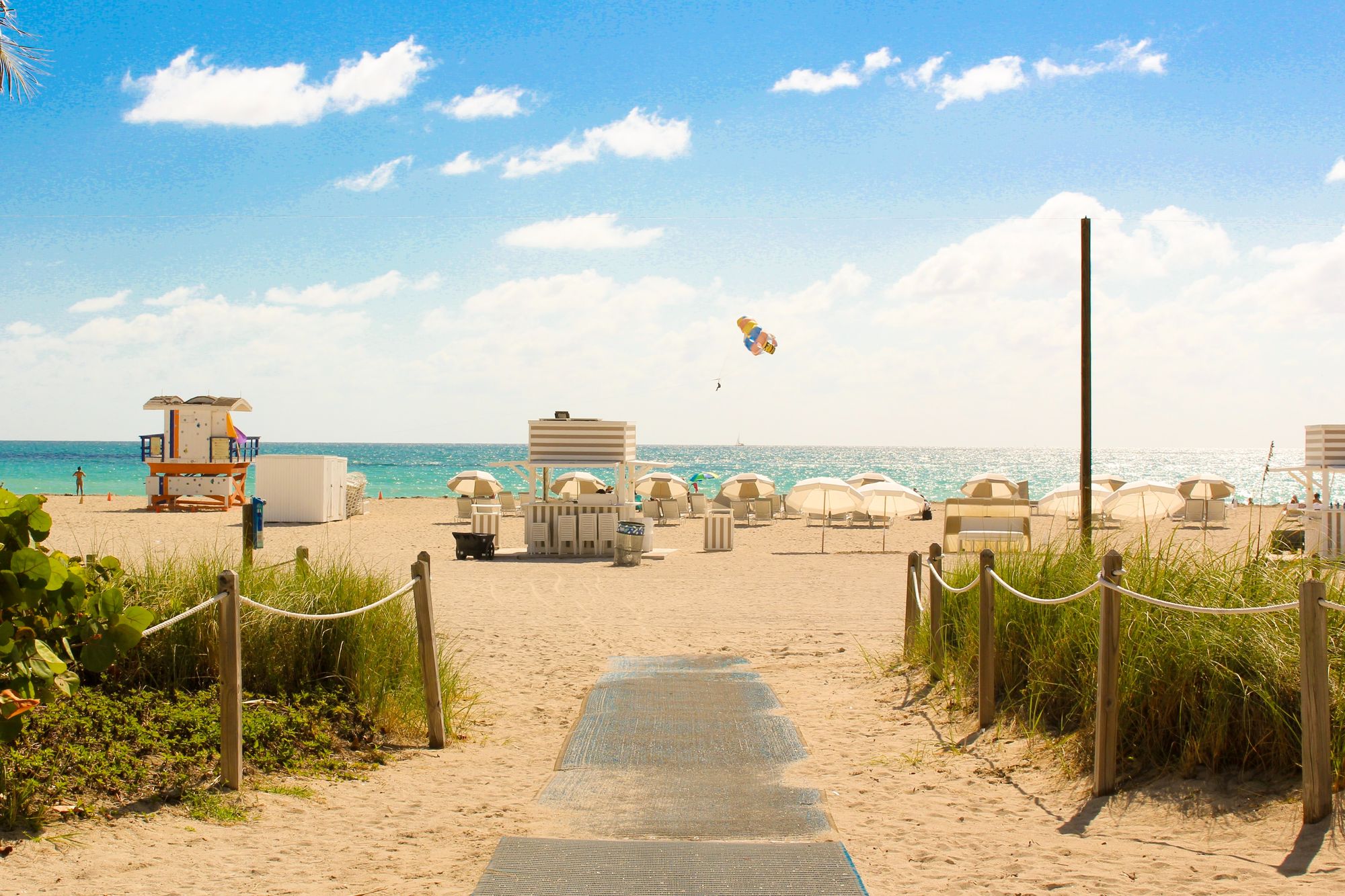 13. North Beach
Home to North Beach Oceanside Park, this tranquil beach area offers accessible entrances on 64th street and and 78th street. However, there is no wheelchair rentals available at North Beach. The park area nearby has picnic tables and accessible restrooms, making it a relaxing spot for a beach day. There is also a variety of restaurant and bar options around.
14. South Pointe Beach Park
South Pointe Beach Park offers a wide array of activities and sights right on the waterfront. Alongside the park you will find a long pier to explore that extends on the southern most point of Miami Beach, making it a beautiful viewing spot. Surrounding the park, there is a variety of restaurants, bars and cafe options.
There are beach access locations at the entrances below:
South Pointe Park Dr. (South)
South Pointe Dr. (North)
3 Street
4 Street
4.75 Street
South Pointe Beach Park also has wheelchair rentals available, just like at South Beach.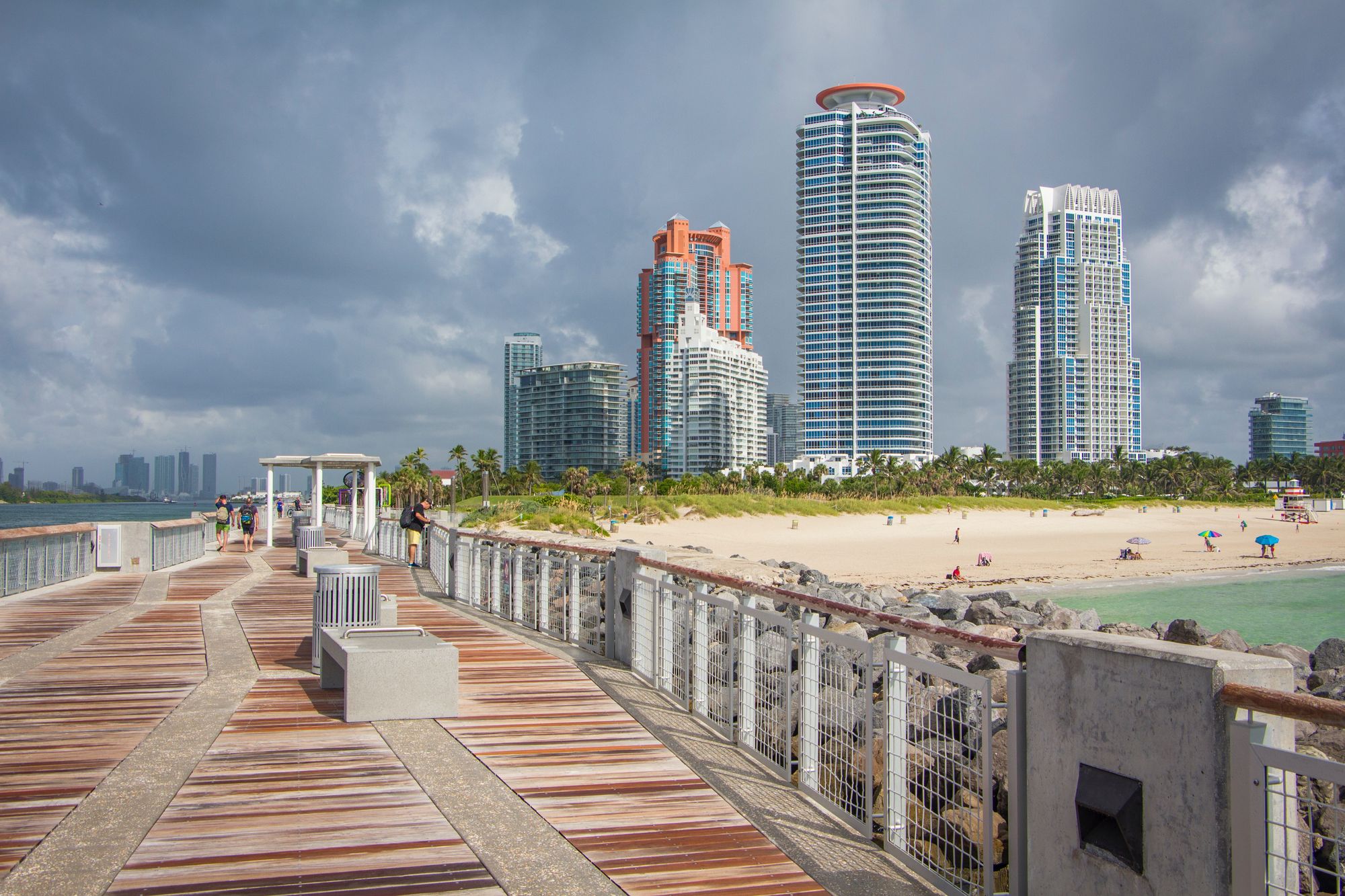 Conclusion
Miami is an accessible paradise. There are a wide array of options when it comes to finding things to do. Adaptable outdoor activities, ultimate relaxation, night life, exploring neighborhoods - there truly is something for everyone.