Accessible Vacations in Costa Rica: What to Expect?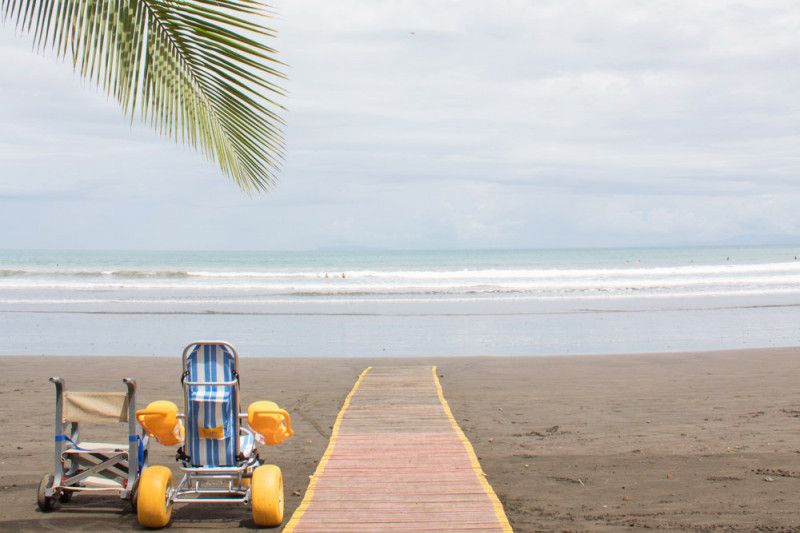 There are many exquisite, dreamy, and fascinating destinations to travel to around the world. Depending on your preferences, you might choose a destination for its history, landmarks, adventure opportunities, beaches, landscapes, or local culture. For people with disabilities, they also have to factor in its accessibility: Will I be able to explore the places I am interested in? Will I find an accessible hotel? Will I be able to move around in my wheelchair? What about adapted transportation?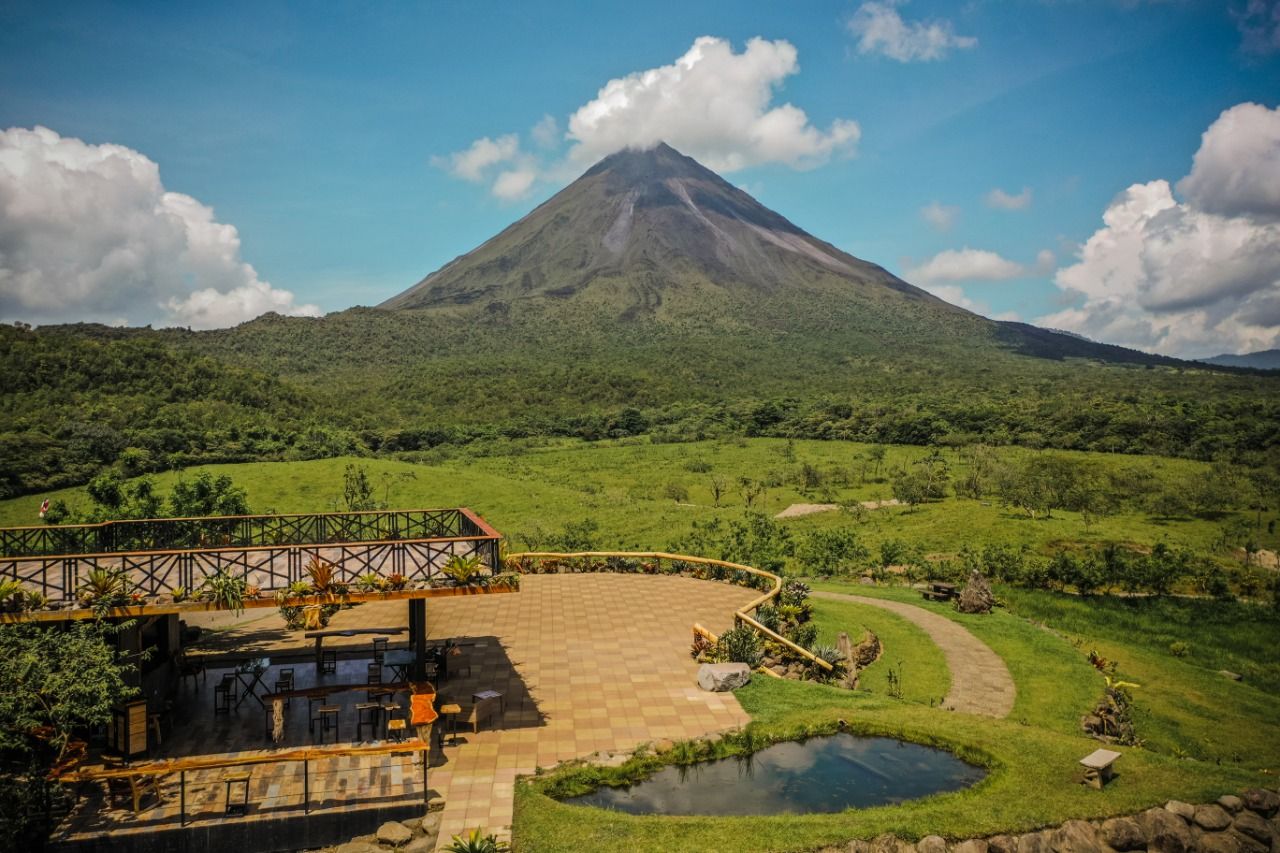 Well, we have a recommendation for you! Costa Rica is an accessible destination and the perfect winter escape. With its diverse geography includes lush rainforests, towering mountains, pristine beaches, and crystal-clear waters, It attracts visitors from all over the world. It was named the 2021 best accessible destination by Lonely Planet! And this is a well-deserved title.
Due to its breathtaking natural beauty and accessibility, Costa Rica has been a top destination for Wheel the World for years now! Whether you're looking for adventure or relaxation, Costa Rica is the perfect destination for your next getaway, and we will explain to you why.
A Little About Costa Rica
This central American country is widely celebrated for its breathtaking biodiversity, expansive national parks, and well-preserved protected areas, making it a true paradise for eco-tourism aficionados. It is not far from the U.S, and the warm and welcoming locals are rightfully proud of their top-notch hospitality industry, which has become a key driver of the country's economic growth.
Practical Tips:
Language: While Spanish is the official language, many people in the tourism industry speak English.
Currency: The Costa Rican colón (CRC) is the local currency, but U.S dollars are widely accepted.
Transportation: Public buses are an affordable way to get around, while renting a car provides more flexibility, especially for exploring remote areas. All WTW trips include accessible transportation between destinations, activities, airports, and hotels.
Weather: Costa Rica has a tropical climate with a wet season from May to November and a dry season from December to April. The dry season offers warm and sunny weather, making it ideal for outdoor activities such as hiking, wildlife viewing, and enjoying the beaches. However, it's worth noting that different regions of Costa Rica may have slight variations in weather patterns and microclimates. If you're interested in rainforest adventures or surfing, the wetter months can still provide a unique and rewarding experience.
Costa Rica: What to expect?
Accessibility
Costa Rica is a country that has worked hard towards its accessibility. It has enacted several laws and regulations to promote accessibility and protect the rights of individuals with disabilities. As tourism is a main source of income, the travel industry has made efforts to include travelers of all abilities in its accommodations, transportation, and tourism activities.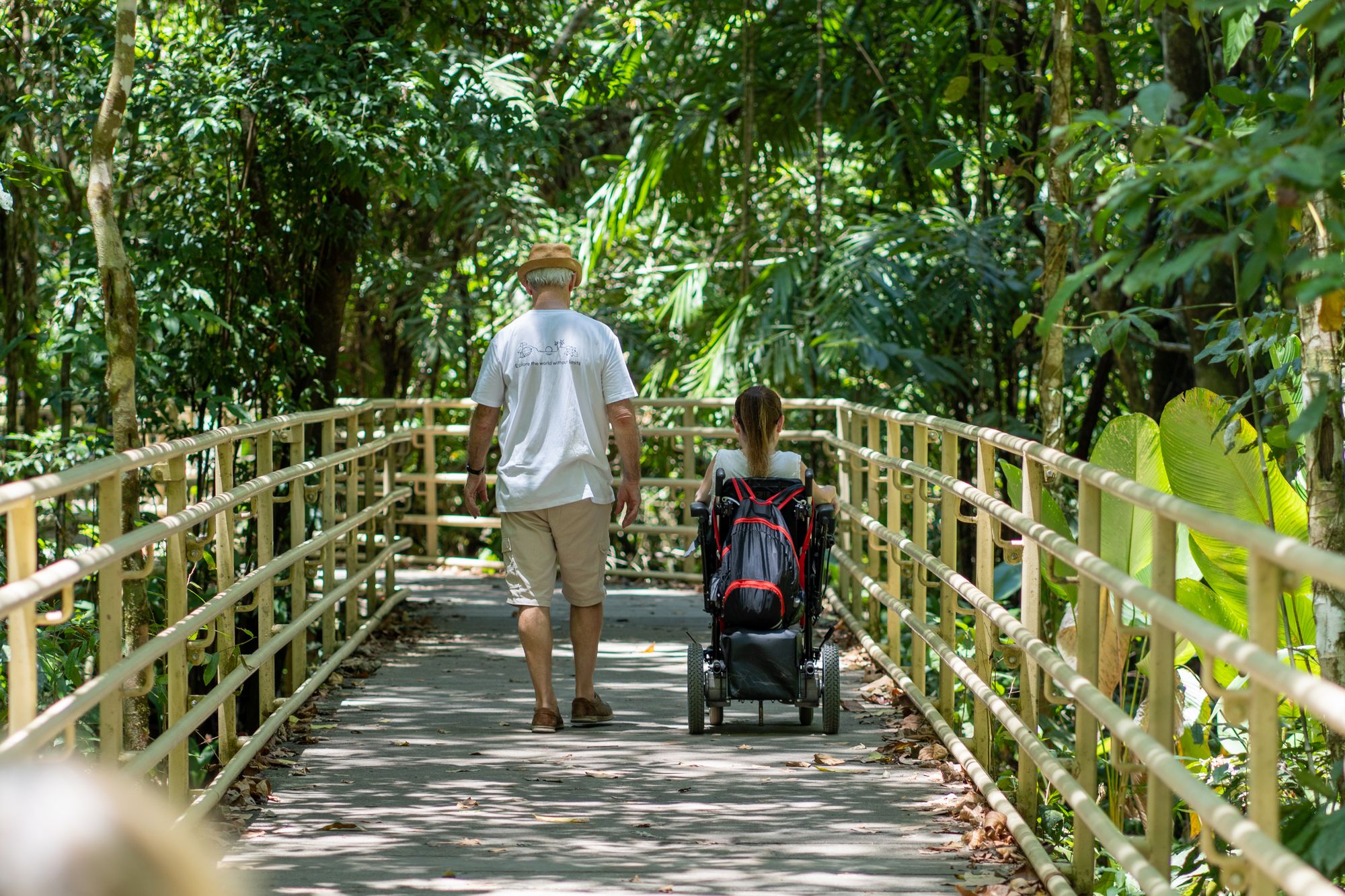 All WTW multi-day trips and group tours to Costa Rica include accessible hotels with roll-in showers and adapted transportation through vehicles equipped with wheelchair ramps. We only select activities that are wheelchair-friendly, and all of them include assistance with expert, trained, and experienced guides.
Recommended Accessible Activities
From accessible adventure activities such as exploring Mistico Park and its hanging bridges to relaxing on your beach holidays at an accessible hotel, there is never a dull moment in Costa Rica! At Wheel the World, we offer:
ℹ️
Find out the differences between multi-day trips and group tours in this
blog post
.
Activities for Nature Lovers
Adapted hanging bridges tour in Mistico Park
Mistico Arenal Hanging Bridges Park in La Fortuna, Costa Rica, offers an immersive rainforest experience through its network of well-maintained hanging bridges. These bridges vary in type, including stationary and suspension bridges, allowing visitors to explore the rainforest and witness its diverse wildlife, from birds to monkeys.
Guided tours with knowledgeable naturalist guides enhance the experience, offering insights into the ecosystem. Along with breathtaking views of the Arenal Volcano and lush landscape, the park provides a safe and thrilling adventure for nature enthusiasts and photographers, promising a unique perspective of Costa Rica's rich biodiversity. Please verify the latest information before planning your visit.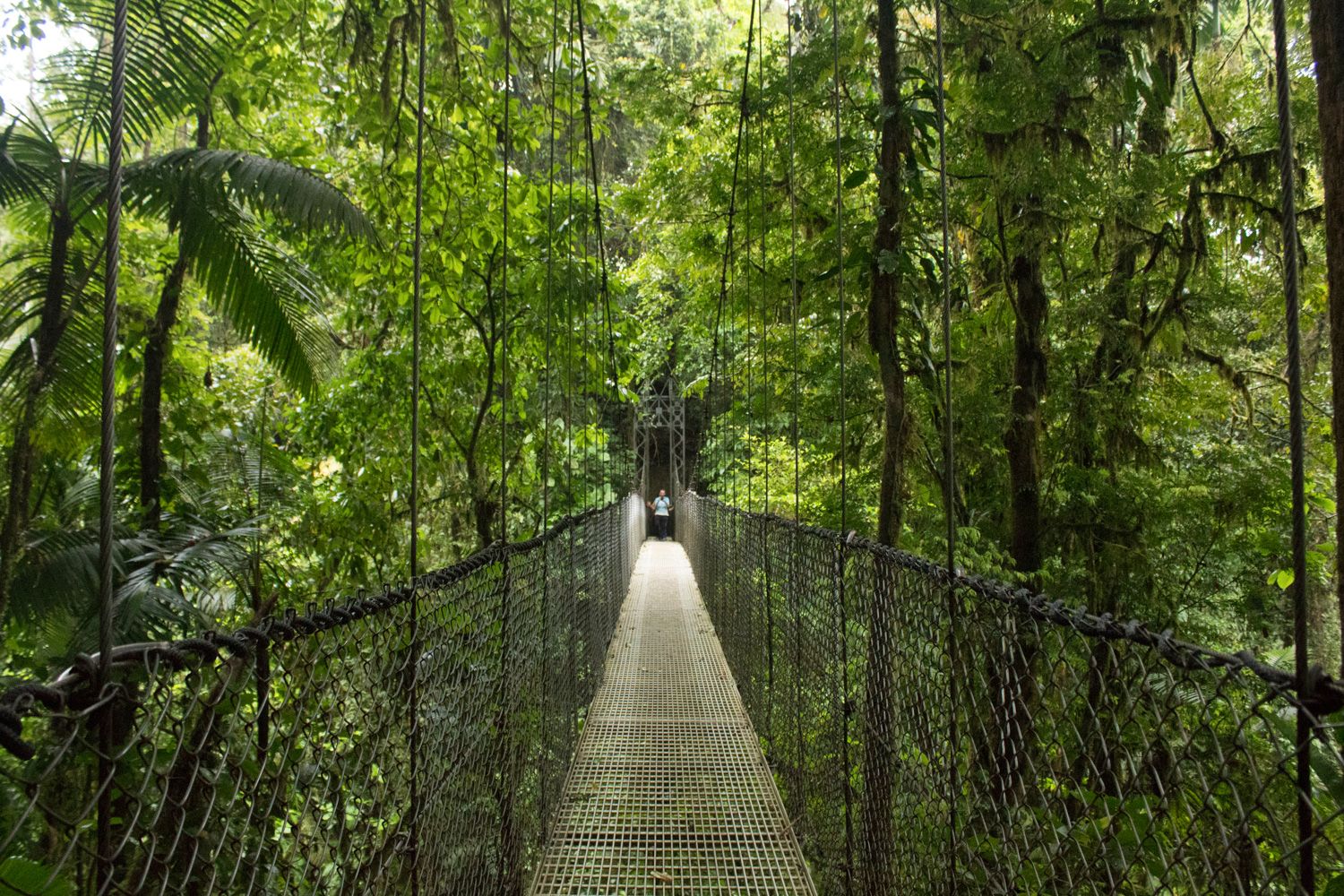 How is this activity accessible? The site has accessible restrooms, step-free accesses, and flat or gently sloped paths.
Where can I find this activity?
Multi-day trips:
Adventures in Costa Rica (Day 4)
Costa Rica highlights (Day 5)
Costa Rica Explorations (Day 5)
Nature in Costa Rica (Day 2)

Group tours:
All available dates of Costa Rica, a natural paradise group tour, include this activity!

Tortuguero National Park accessible hike
Embark on an unforgettable, accessible hiking journey through the captivating landscapes of Tortuguero National Park in Costa Rica. Specially designed trails and facilities ensure that all nature enthusiasts, regardless of mobility challenges, can immerse themselves in the park's astonishing biodiversity. Guided by experienced rangers, the accessible paths wind through lush rainforests, leading to stunning viewpoints overlooking the park's intricate waterways and wildlife-rich habitats.
With a commitment to inclusivity, Tortuguero National Park offers a unique opportunity to connect with nature and witness the magic of Costa Rica's natural heritage in a way that is accessible and enriching for everyone.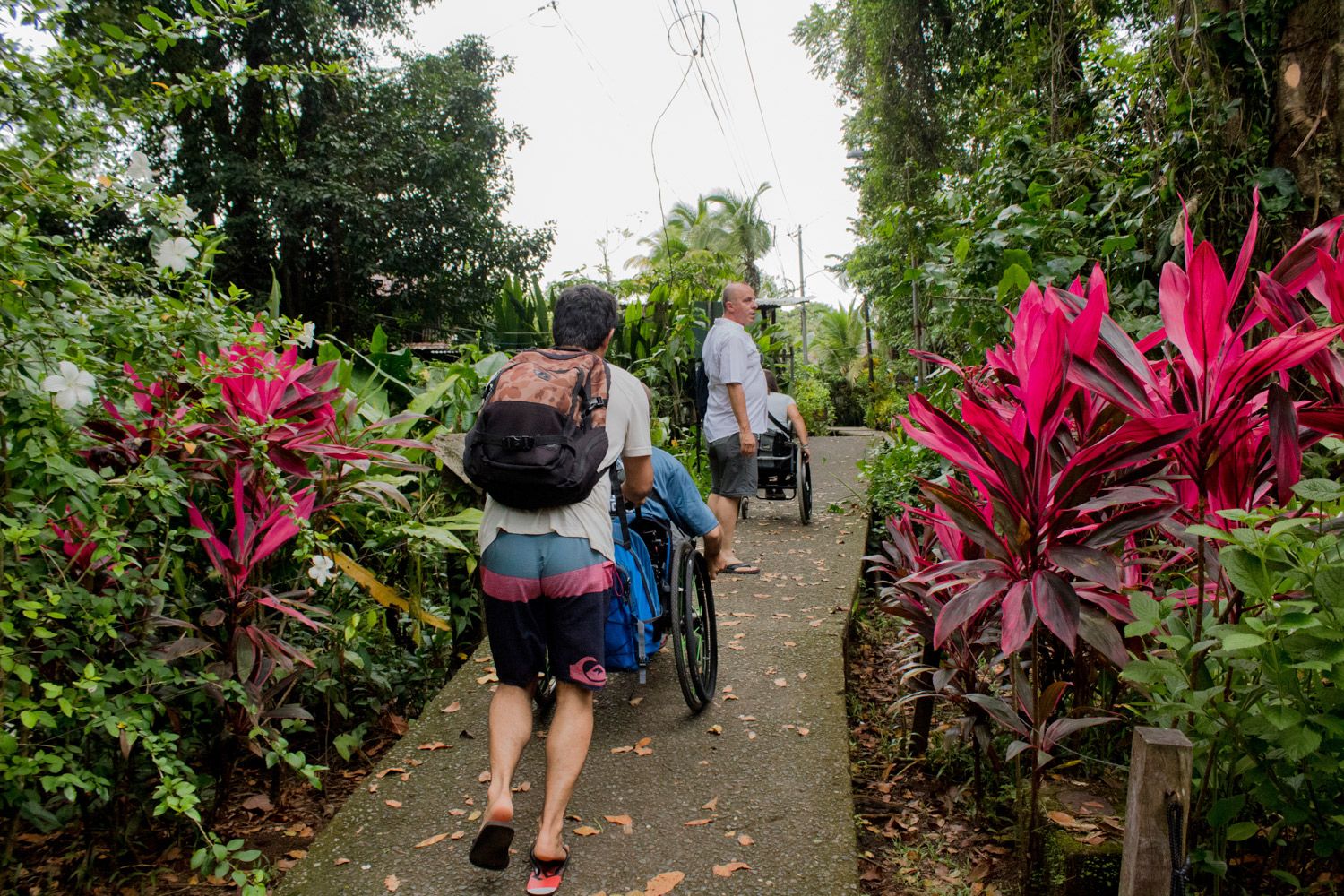 How is this activity accessible? The site has a specialized 90-minute accessible trail, and our multi-day trips include the option to rent a Joëlette wheelchair for an extra price!
Where can I find this activity?
Costa Rica highlights (Day 3)
Costa Rica Explorations (Day 3)
Animal interaction tours
Eco-friendly sloth tour
Costa Rica, a lush paradise brimming with biodiversity, is home to the enchanting inhabitants of the treetops – the friendly sloths! These slow-moving creatures, both two-toed and three-toed, embody the unhurried pace of life that defines the country's tranquil vibe. Nestled among the dense rainforests, these arboreal mammals spend their days leisurely navigating the canopy, munching on leaves, and occasionally descending to the forest floor to perform their infrequent bathroom rituals. As symbols of patience and serenity, sloths symbolize the essence of Costa Rica's captivating natural wonders.
Our curated WTW trips include a guided sloth tour through the accessible Mariolas trail!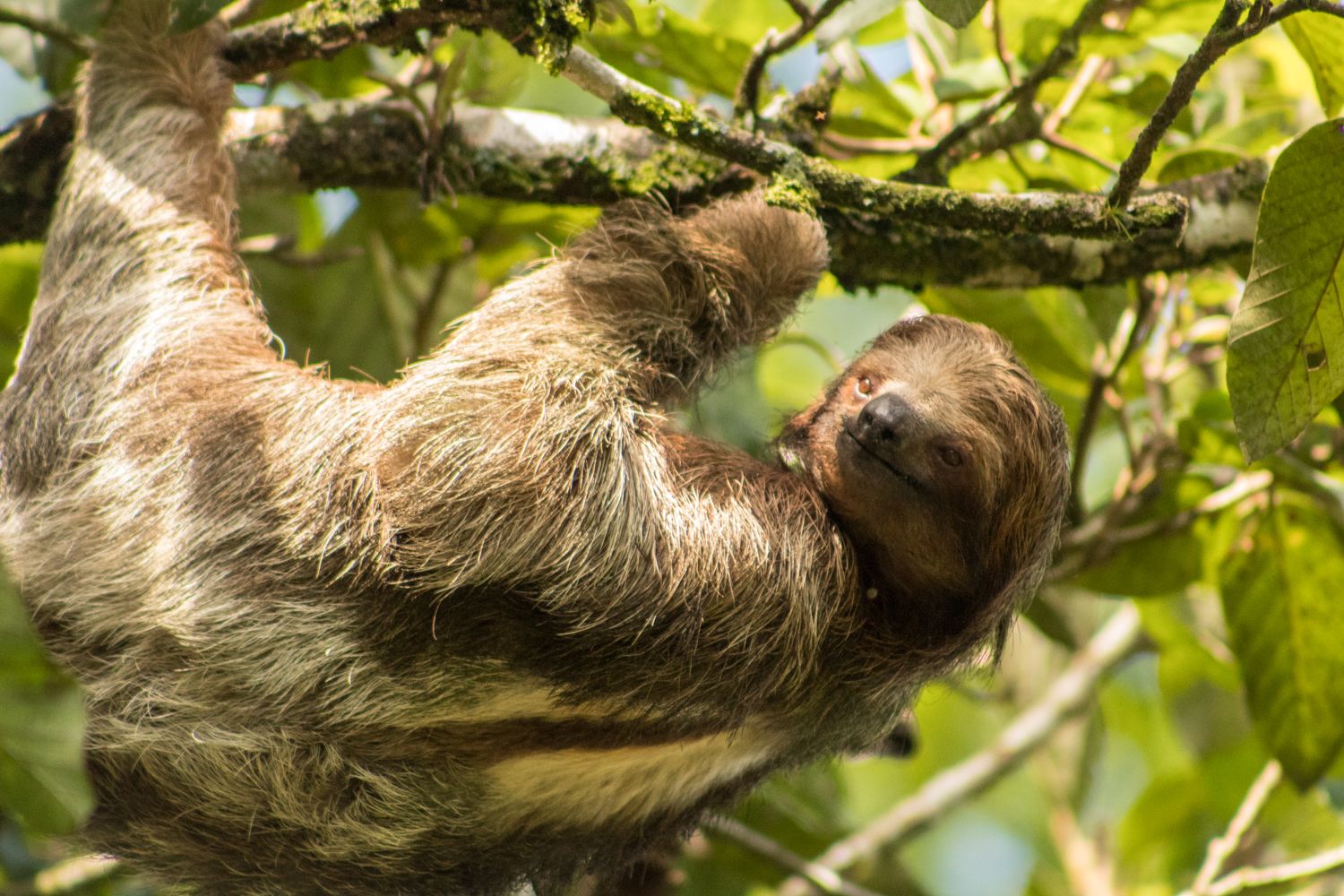 How is this activity accessible? The site has a specialized 90-minute accessible trail, and our multi-day trips include the option to rent a Joëlette wheelchair for an extra price!
Where can I find this activity?
Water activities
Adaptive surfing in Jaco or Tamarindo Beach!
Jacó and Tamarindo Beach in Costa Rica have become popular destinations for adaptive surfing, providing a welcoming environment for individuals with disabilities to experience the thrill of riding the waves.
These beach towns are ideal locations for adaptive surfing due to their consistent waves and warm waters. Experienced instructors work closely with participants to ensure their safety and help them develop the necessary skills to ride the waves independently. The inclusive nature of adaptive surfing fosters a supportive and empowering community where individuals of all abilities can connect with nature, build self-confidence, and experience the sheer exhilaration of catching a wave. Whether it's in Jacó or Tamarindo Beach, adaptive surfing provides a remarkable opportunity for people with disabilities to engage in a thrilling water sport, challenge themselves, and create lasting memories against the backdrop of Costa Rica's stunning coastlines.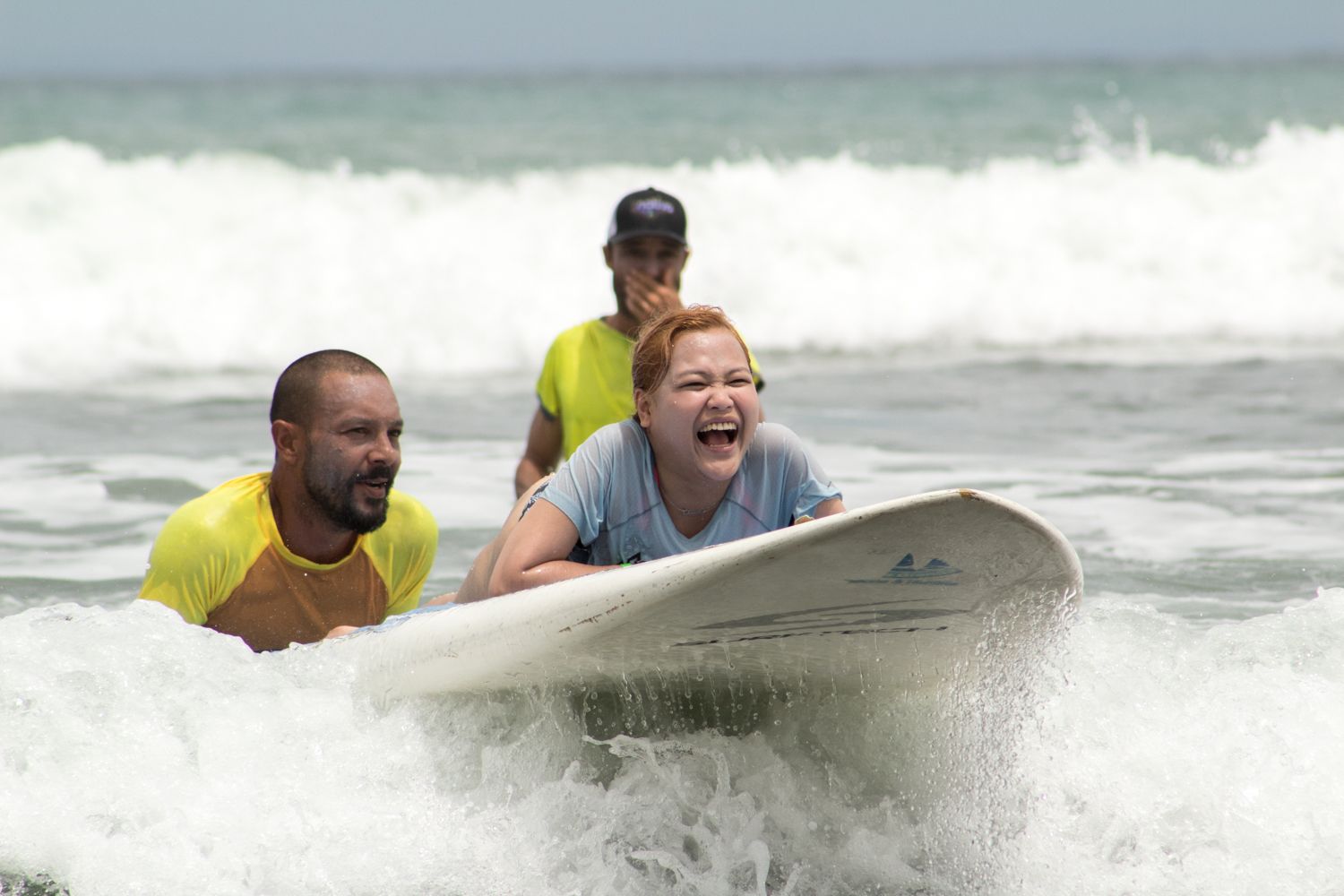 How is this activity accessible? With the assistance of trained instructors and adaptive surfboards, people with mobility impairments can maneuver through the water and catch waves, embracing the freedom and joy that surfing brings!
Where can I find this activity?
Relaxed vacations in Costa Rica (Day 5)
Costa Rica highlights (Day 7)
Jungle safari accessible boat tour on Tarcoles River

If you're looking to experience the natural beauty of the Central Pacific coast of Costa Rica, we highly recommend taking a boat tour along the Tarcoles River. This 3.5-hour excursion is perfect for nature lovers and provides an opportunity to witness the stunning views of the region.
As you cruise along the river, you'll be able to spot various bird species in their natural habitat. You'll witness the vibrant colors of the macaws and parrots, the elegant herons and egrets, and the agile kingfishers. These birds are a great example of the rich biodiversity found in the area.
The Tarcoles River is also home to the American crocodile, one of the largest reptiles in the world. You'll be able to see them basking in the sun or lurking in the water. Don't worry; the boat tour is safe, and the guide will ensure that you maintain a safe distance from these magnificent creatures.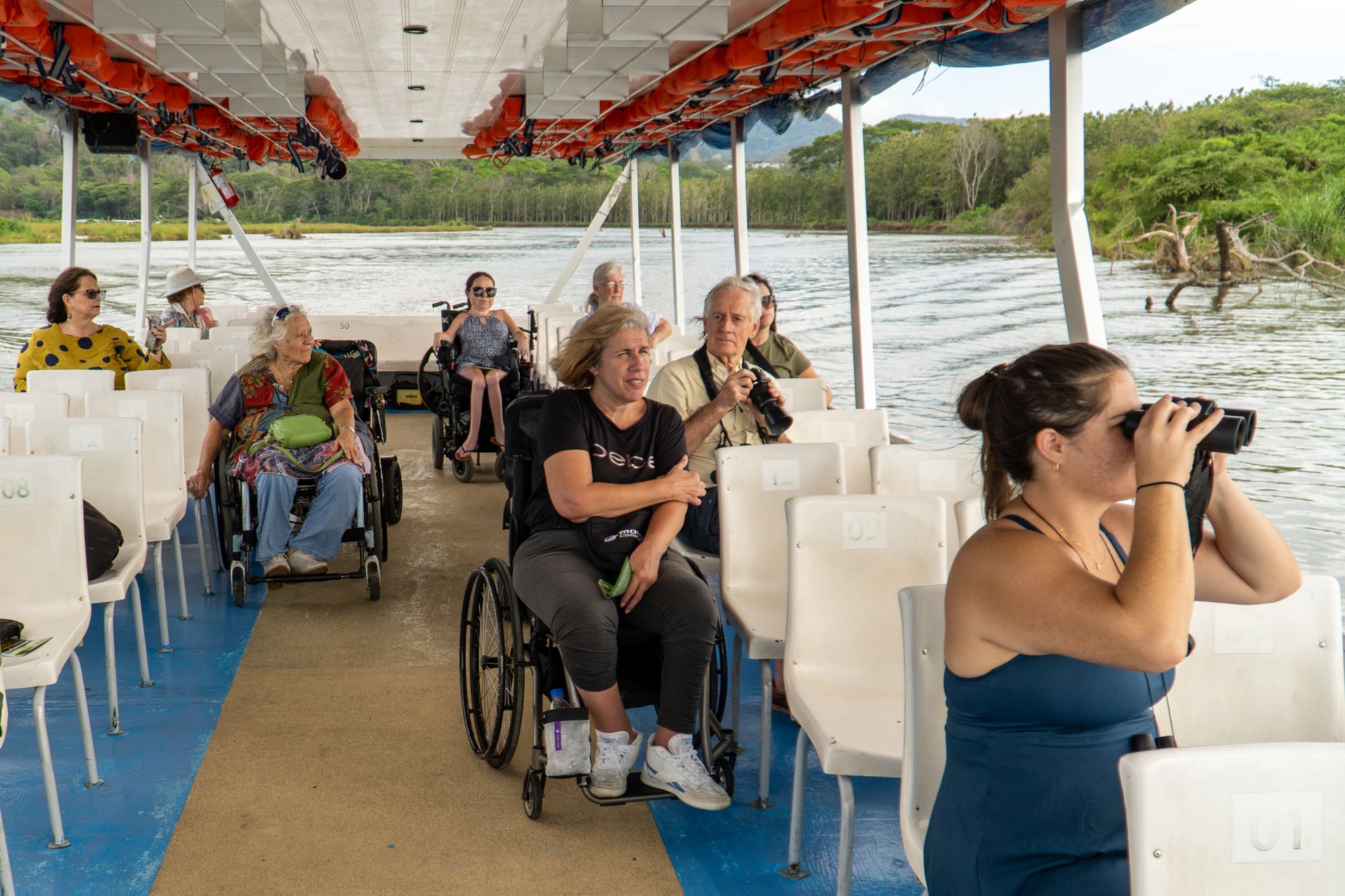 How is this activity accessible? The boat has ramp entrances and enough space for wheelchair users to navigate comfortably. Also, expert guides will be available to assist you.
Where can I find this activity?
Adventures in Costa Rica (Day 5)
So... are you ready to visit Costa Rica?
Costa Rica is a destination that caters to the desires of all travelers, providing accessible and awe-inspiring experiences. With its incredible biodiversity, welcoming locals, and dedication to accessibility, Costa Rica invites you to embark on a journey of adventure and relaxation. From exploring rainforests on adapted trails to witnessing the magic of sloths in their natural habitat, Costa Rica offers unforgettable experiences for everyone.
Book your favorite multi-day trip!