Wheelchair Accessible Barcelona: My Experience Traveling with my Partner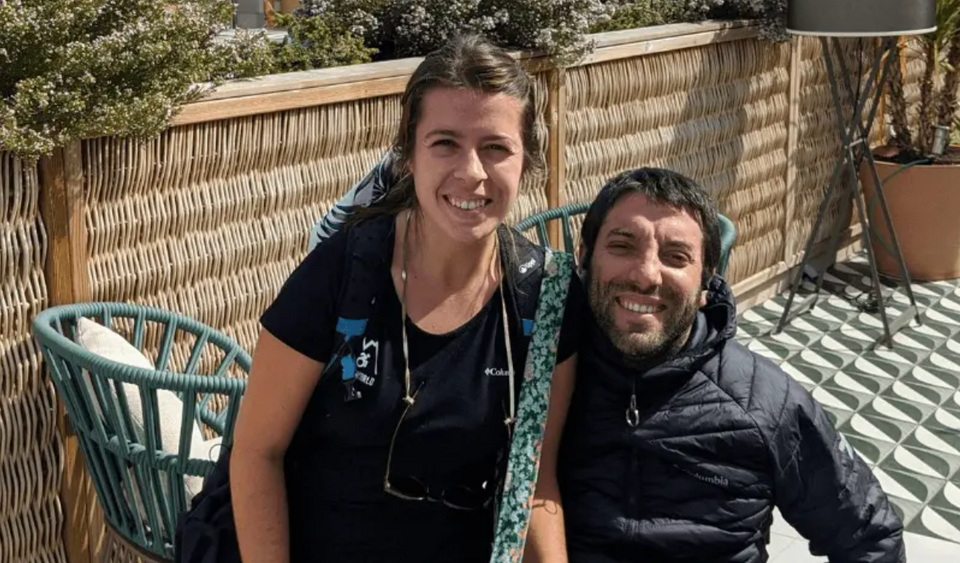 Our experience traveling in a wheelchair to Barcelona was basically perfect. If it's your first time traveling with someone with a disability, Barcelona is one of the best options. In this article, I want to share some tips and advice for anyone thinking about traveling to this stunning city.
First of all, it's my boyfriend who uses a wheelchair, not me. My name is Florencia, I'm an architect and I love to travel and experience my studies in person. For me, appreciating and experiencing great works of architecture in person revalidates the value of architecture in the world. My boyfriend, Alvaro, likes to travel with me for the historical content and artistic appreciation I relay while we travel. I like to travel with him because he shows me the environment from a different perspective. We're a good team when it comes to traveling.
I met my partner, who has quadriplegia, two years ago. He uses a manual wheelchair to get around. In the time we've known each other we've explored many places together, many of which were extremely accessible, such as San Francisco, London, and Costa Rica. Some think that traveling with him is difficult and tiring, but the truth is I love being able to share experiences with him. I love to use my background to analyze how tourism can be completely accessible when it is well designed and the right information is given.
Barcelona is wheelchair accessible in every way: lodging, tours, activities, transportation, and easy access to museums, parks, beaches, and attractions. Here is some important information to consider.
Wheelchair Accessible Transportation in Barcelona
In Barcelona, it's possible and easy to move around – whether you're using an electric wheelchair that weighs 100 kg or an ultralight manual chair. Taxis and buses are fully accessible and the metro is largely accessible as well.
Accessibility of Taxi Services in Barcelona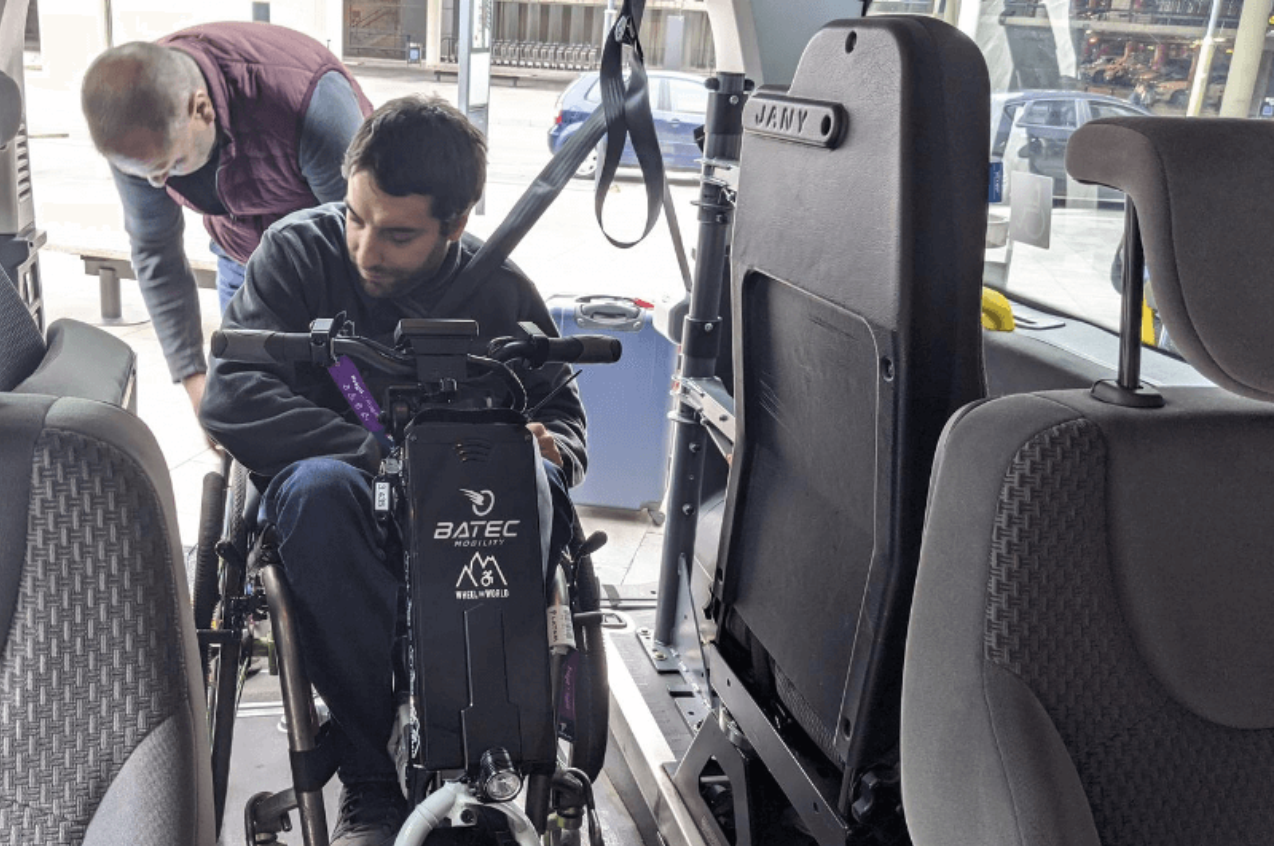 Unlike other cities, it's very easy to get an accessible taxi in Barcelona. They have vans adapted for wheelchairs with ramp access from behind and tie-downs to anchor yourself. Prices are basically the same as a conventional taxi. Speaking with a taxi driver, I found out that people with a disability in Catalonia (the region of Spain where Barcelona is located) have an ID card that gives them 2-4 subsidized rides in adapted taxis like that in the photo. They pay 3 euros a trip versus the maximum 25 that someone without this ID would pay. While this benefit is for residents, not tourists, but you can plan ahead to reserve your accessible taxi here or here and specify your accessibility needs.

Wheel the World can also help you find accessible transportation in Barcelona. Learn more.
Accessibility of Public Buses
All buses in Barcelona are wheelchair accessible with ramps, alert buttons, reserved spaces, and wheelchair anchors. This made me wonder what life would be like for millions of people around the world if all public buses in the world were adapted. When the gaps are eliminated, so many opportunities can be opened for people to access the world.
Accessibility of the Metro
Many metro stations in the city are accessible with elevators and reserved spaces. There is a slight gap between the platform and the car, but with a wheely or the help of others it is easy to pass over. People were very kind and willing to help us any time. Don't be afraid to ask for help!
Wheeling Around Barcelona
The city streets are super accessible. Even old neighborhoods like the Gothic Quarter and the Gracia district are designed with sloping sidewalks that allow access. I noticed that even on the cobblestone walkways, there was a section with pavement to avoid them. It was interesting because the paved route wasn't an alternative – it was in the center of the walkway. Cobblestones are not friendly for people who move around in a wheelchair and Barcelona knows that :).
We decided to explore the city by bike, since fortunately my boyfriend brought his Batec – an electric handbike that connects to the manual chair. By coincidence, Batec Mobility was created in Barcelona, and if you're interested you can visit their factory.
The bike and handbike let us experience the city from another perspective without needing to use the metro or bus.  Barcelona is like an open museum, but being situated between the ocean and hills there is sometimes a bit of an incline, so the electric assistance really helped us explore every corner of the beautiful Catalonian capital.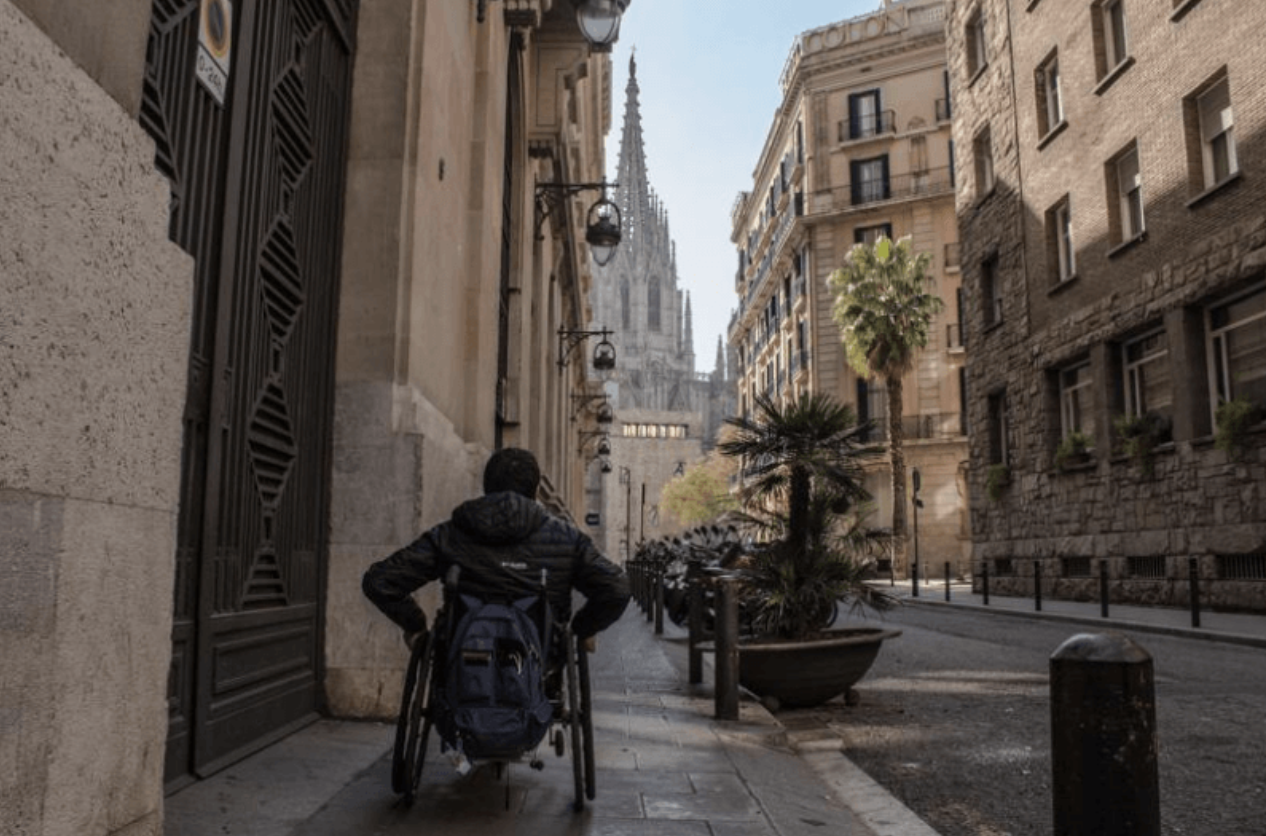 Wheelchair Accessible Attractions in Barcelona
We didn't have time to explore everything we wanted to, but we were able to visit and enjoy various accessible places.
Our First Impression
Whenever we get to a new destination, the first thing we do after we rest a little is head out to look for a good place to eat. With Alvaro using the Batec, and me on foot, we headed toward Plaza Catalunya. We wanted to find a place to try the famous tapas and crema catalana dessert. We stumbled upon a tapas bar called "Ciudad Condal", located on Rambla de Catalunya. Then, we kept going and walked to the great Paseo de Gracia.
There's something special about Barcelona. Its regulated density makes every public space perfect for spending the whole day outside. The streets and sidewalks are wide enough for pedestrians, bikes, and cars to be comfortable. It has so many walkways and plazas. You can find the city in the street.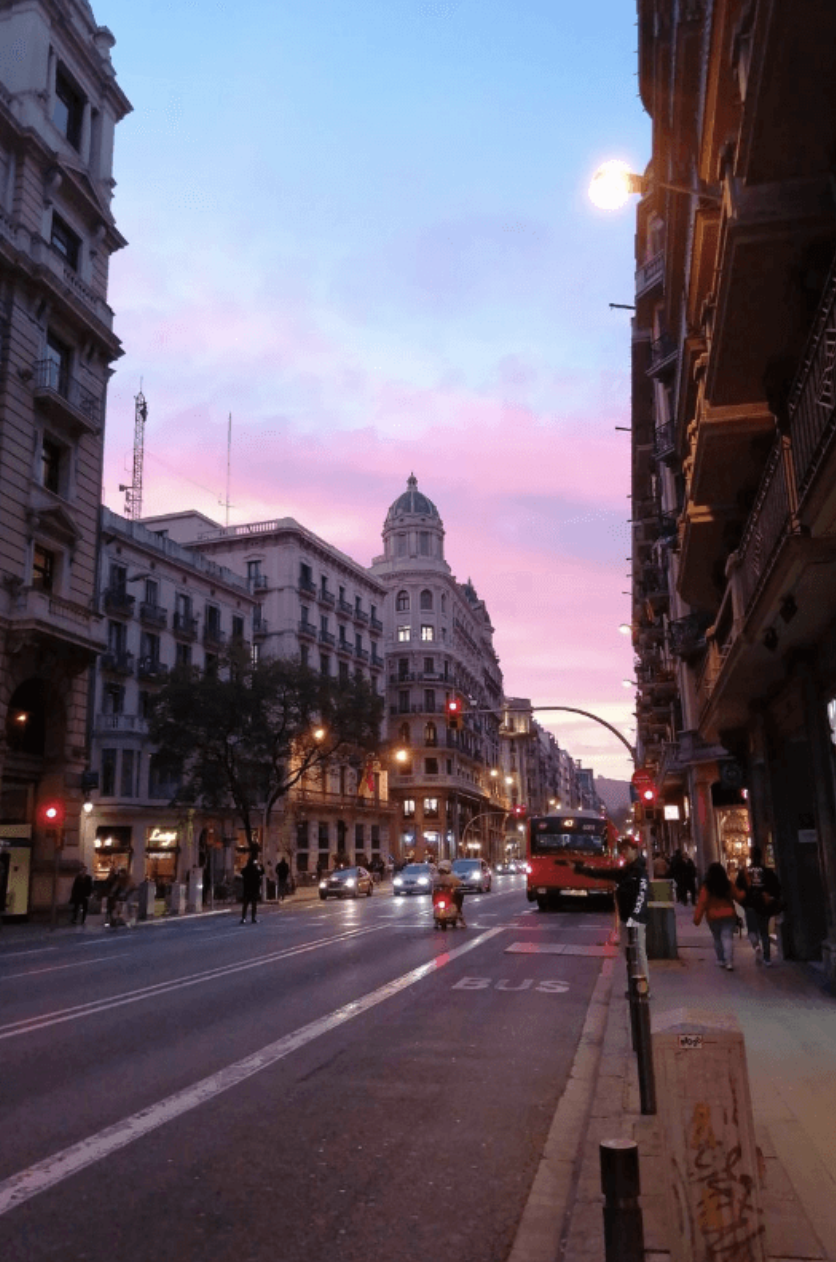 Rambla del Mar
As I mentioned earlier, the city is ideal for exploring by bike. That's why on our second day, with the sun announcing that spring was coming, we took the Batec and the bike out. We took Rambla all the way down to the beach. The Rambla is a big walkway that is located on one side of the Gothic Quarter. It's a tourist attraction and a big shopping spot that connects downtown to the beach.
We took the roundabout that circled the Christopher Columbus monument to get to the ocean. From there, we crossed toward Rambla del Mar, a beautiful walkway apt for biking and walking. At the end of Rambla del Mar, there's a shopping mall, so we decided to go around it and found a bicycle path that took us to a lookout point with beautiful views of the city.
We continued exploring the port through bike and walking paths. We wanted to get to St. Sebastian Tower for a beautiful view of the city from the gondola that goes to Montjuic hill. Unfortunately, when we got there we were told that the gondola wasn't wide enough for the wheelchair to enter. It's probable that an electric chair might be able to enter, but we aren't sure.
Since we couldn't go to the top of the tower, we decided to keep exploring the coast of Barcelona. We went through the neighborhood of Barceloneta, passed by Port Olympic Marina, and got to Bogatell beach, where we stopped to eat a classic paella.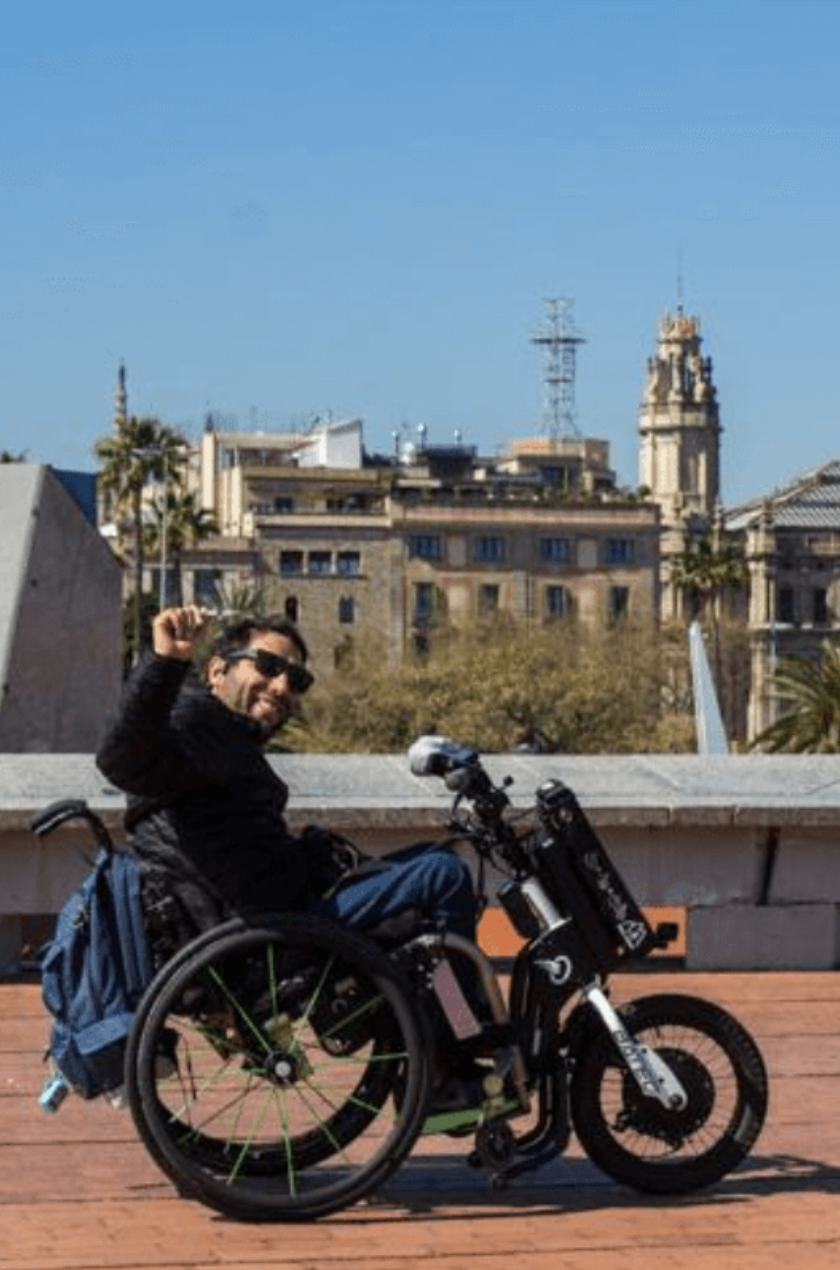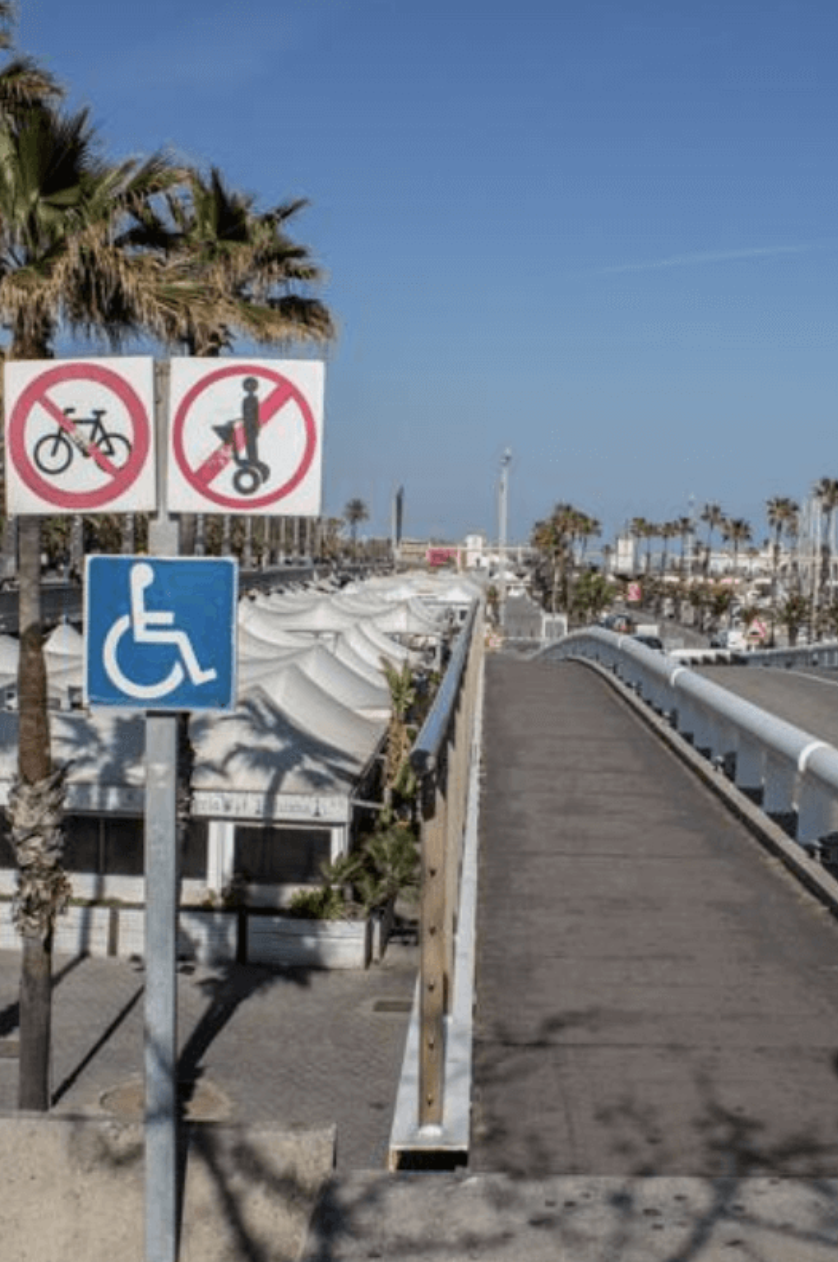 Santa Caterina Market and the Pablo Picasso Museum
The Pablo Picasso museum is located in the Ribera neighborhood. We decided to take the long way there and check out the Santa Caterina Market. I had traveled to Barcelona a few years ago, but this time I was looking at it through a different perspective. The perspective of accessibility.
Well, as I told you in the introduction, he loves to travel with me because I teach him to view the place from an artistic and architectural perspective. The Santa Caterina Market is a work by Enric Miralles, one of my favorite architects. With Benedetta Tagliaube, they designed a space that embodies an overlap of the past and present through a colorful covering that extends beyond the building, integrating the totally accessible public space. This structure was part of an urban recovery project in the Ciutat Vella district.
Now, I had been to the Pablo Picasso Museum before, but it's something that I would repeat a thousand times more. I think Picasso's genius makes you confront and understand something new in each work of art, and every time you see it. You can find a large collection from Picasso's life – from his more realist beginnings to the most abstract works. My favorite is the Las Meninas series. Picasso studied Velazquez's famous work until he could understand it from a different point of view. The museum exhibits this whole creative process, to the final piece.
But the best thing about the museum is its accessibility. It's so admirable that such an old building in a medieval neighborhood is accessible and invites everyone to come enjoy it. The museum is totally accessible, from ramps made from the same material as the floor, elevators to access the exhibit (the works are found on the second floor), they have wheelchairs in case you don't frequently use one but you need one, guide dogs are allowed, they offer and audioguide, and have an accessible bathroom.
We weren't able to enter with the Batec, but they let us store it and we had no problems exploring the museum with the manual wheelchair, since the second floor is flat. You aren't allowed to bring backpacks in either, but there are lockers to store them. If you have a camera or want to take photos with your phone, you can!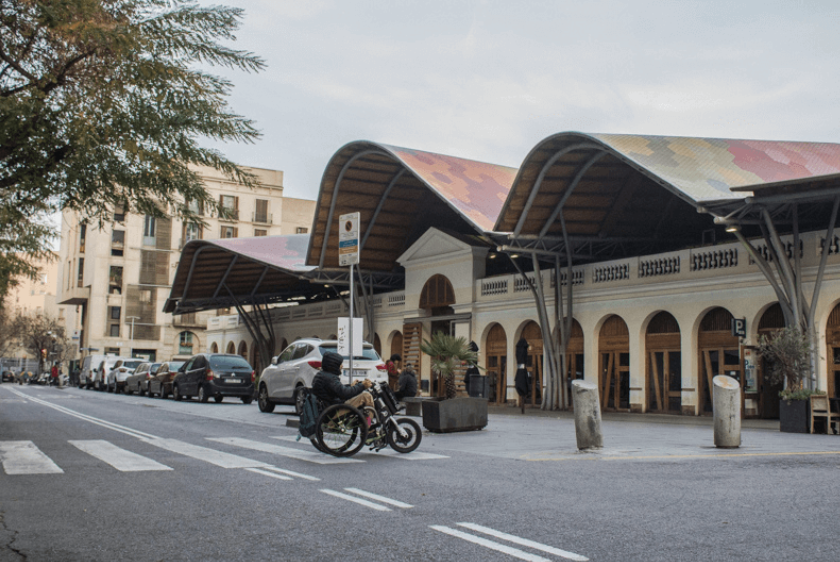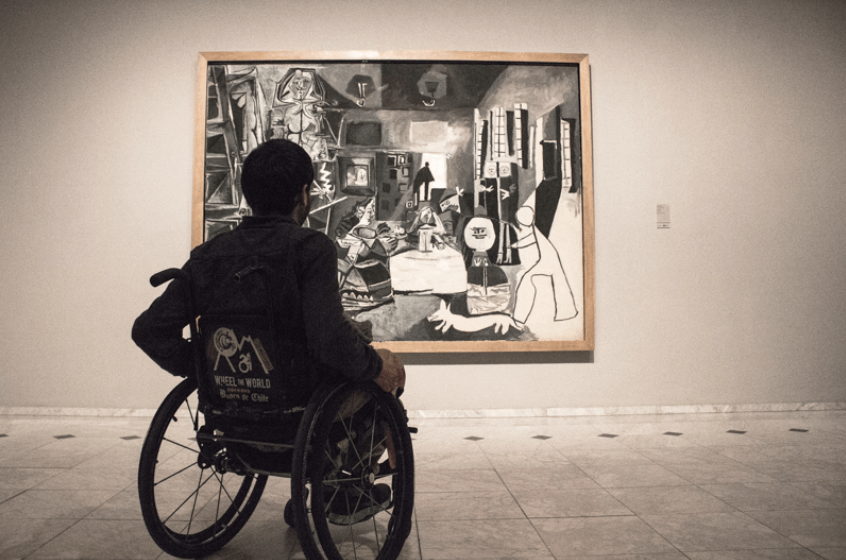 Basilica of Santa María del Mar
The Basilica of Santa María del Mar is a place that I hadn't been before, and this time I wanted to go for sure. Before the trip I had read Cathedral of the Sea by Ideofonso Falcone, which tells the story of the construction of the church.
It's also found in the Ribera neighborhood, very close to the Picasso Museum. The main entrance isn't accessible. There is an accessible entrance on the side with a ramp, it's not ideal but at least we were both able to enter. People with a disability enter free.
One of the main characteristics of the church is that it was managed by the neighbors of La Ribera, both economically and physically. Because of this, it had limited resources. So it's interior consists of one big space – its floor plan is not in a cross like other churches from that era. Still, the basilica is a gem in gothic Catalonian architecture.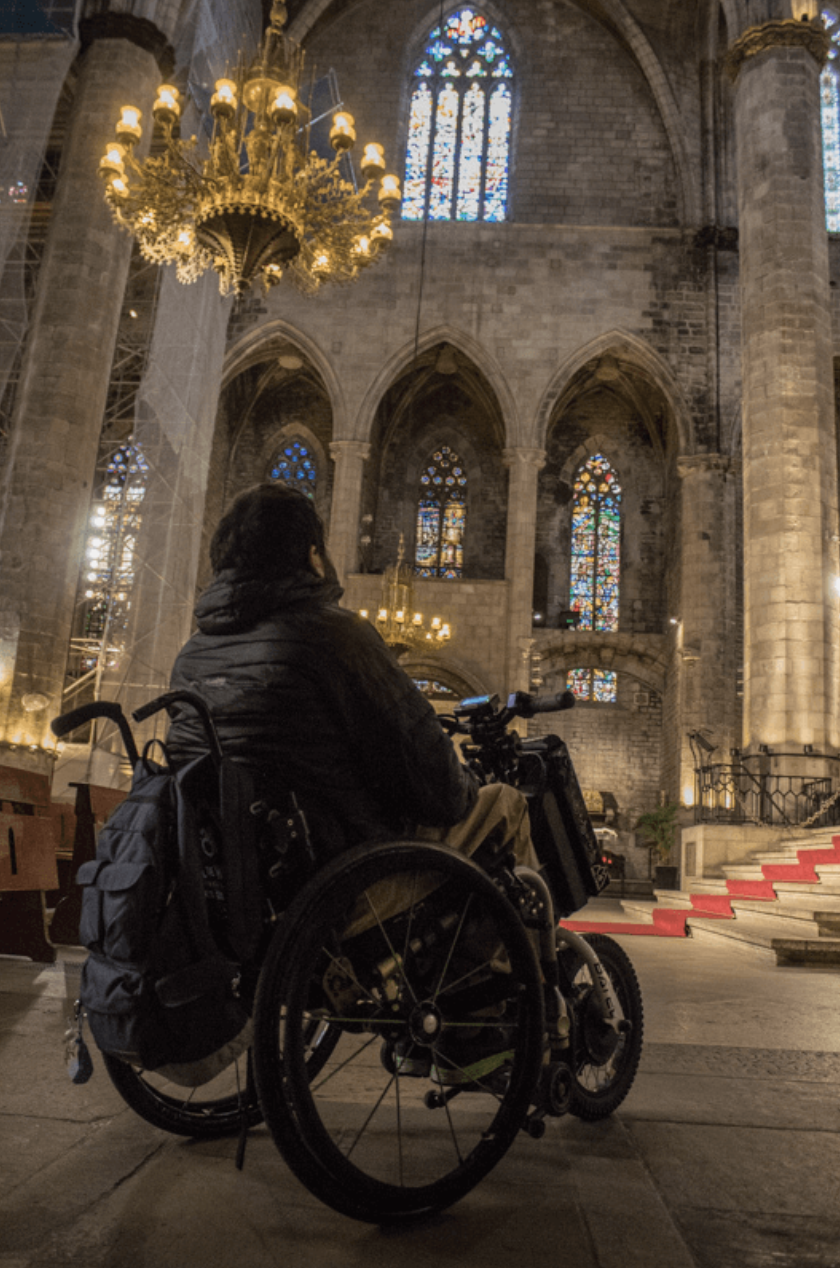 Ciutadella Park
My boyfriend and I love parks. We couldn't leave Barcelona without visiting one of the oldest and biggest parks in the city.
The park is beautiful. It's architecture and design demonstrate that it was created at the end of the 19th century. It's also very accessible. There are a series of ramps that help you get to the different levels that create the park and the floor is mostly made of decomposed granite.
In my profession, I've been asked various times if decomposed granite is accessible or not. Based on my experience with my boyfriend, it is when it's well compacted. Many places use this type of ground covering in parks because it's economical and good in rain, but it must be kept as compacted as possible.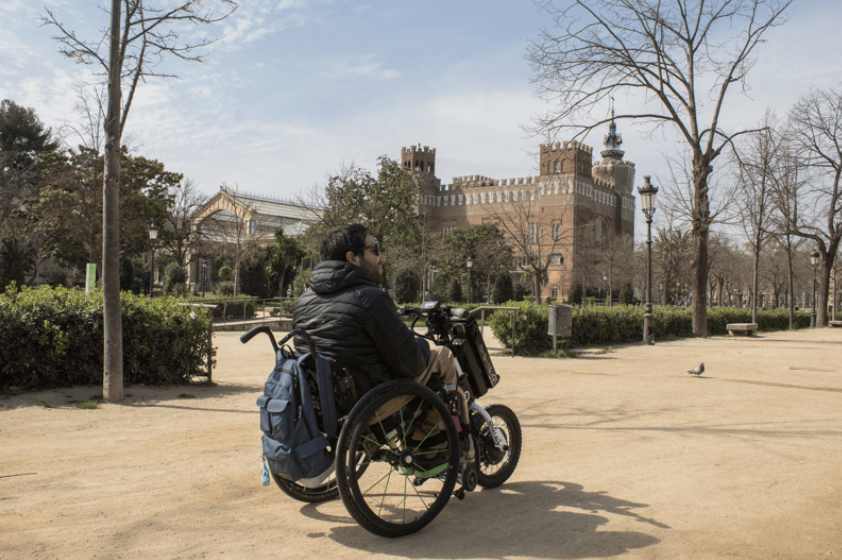 Casa Batllo and Casa La Pedrera
Another favorite architect of mine is Antonio Gaudi. He is known for being the biggest example of Catalonian modernism.
Gaudi constructed his own style, inspired by nature and searching for the geometry in it to be able to replicate it by creating spaces between curves and colors.
In Barcelona you can find many of this famous architect's works. They've become an iconic part of the city. I recommend planning ahead a guided tour to learn more about Gaudi.
First, we visited Casa Batllo, located in the beautiful Paseo de Gracia, an important elegant street from the period when this work was built. Gaudi constructed a house for the Batllo family, who renovated and preserved the facade and created an interior inspired by marine life through figures and mosaic walls made from recycled and organic materials.
The house has accessibility covered almost entirely. It has a beautiful elevator created by Gaudi that shows his vanguardism. It's a small elevator, with one other person it fits a 70cm wheelchair, but nothing larger. If your wheelchair is too big, they have wheelchairs available to borrow.
There is a dynamic and entertaining audio guide with augmented reality in different languages. For those with a visual disability, they offer a "SmartGuide", which offers braille in three languages: Catalan, Spanish, and English. The rooftop terrace is the only place that doesn't have wheelchair access. When this happens, my boyfriend tells me to go up and take some good photos to show to him after.
A few blocks away is La Pedrera, or Casa Mila. So we left casa Batllo and headed straight there. Casa Mila is one of Gaudi's last works. Its facade extends around a corner of a block, which allows you to view it from many different angles. We can see the architect's essence in this building and how he searched to make nature habitable.
The "azotea de los guerreros" is a terrace that allows for a panoramic view of the city. We were both able to go up to the terrace, but it's hard to move around since it is mainly built of steps at different levels. After that we went to the attic, where you can see an incredible work of arches built from brick. There you'll find an exhibit about Gaudi and how he went about his projects. Finally, we explored one of the floors where they've recreated bourgeoisie family life of the early 20th century.
As I explained before, the rooftop terrace is the only place we weren't able to totally explore together. But the rest of the building is adapted with ramps where necessary, there are accessible bathrooms, they have wheelchairs to borrow if necessary, an audio guide, models with details to feel, magnetic loop necklaces for those who use hearing aids, touch panels, and the possibility of planning in advance to reserve a guided visit with a sign language interpreter.
The third work of Gaudi was the one we could only appreciate from the exterior, the Sagrada Familia. We didn't enter because we had to leave to tour the most accessible hotels in Barcelona. Keep reading to learn more about them.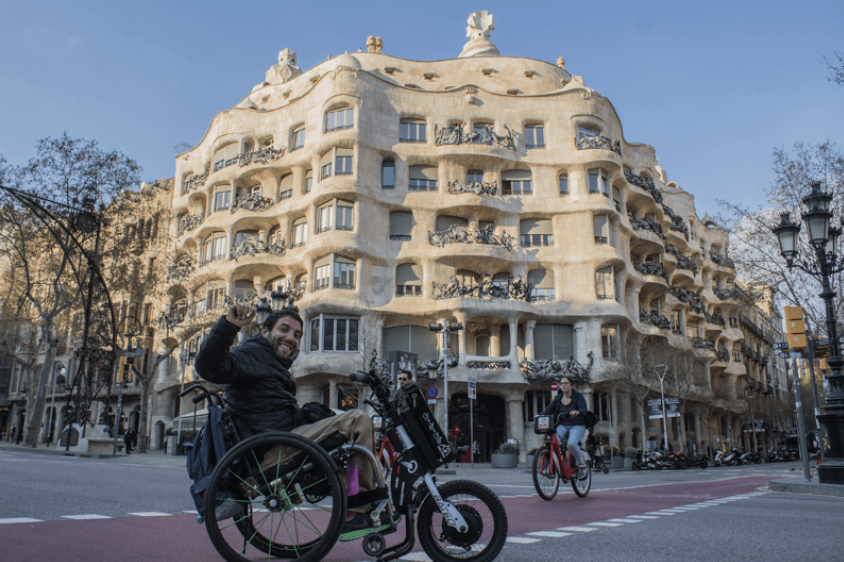 Wheelchair Accessible Accommodations in Barcelona
The hotel we reserved for our stay in Barcelona was called Ilunion Almirante and it's located on Vía Layetana, a big central street that separates the Gothic Quarter from La Ribera and El Born neighborhoods. It has 4 accessible rooms, each with ample space and enough room to turn in a wheelchair. The bathroom had support bars, a shower chair attached to the wall, a wheel-in shower with a handheld shower head, a sink at an appropriate level and a faucet that was easy to use. The door lock and bathroom articles also had braille. We noticed that the hotel didn't just meet accessibility requirements, it included people with disabilities as employees. We saw various people who were deaf or with hearing loss working there.
We dedicated one entire day of our trip to visiting the most accessible hotels in the city. They were located all over the city which allowed us to tour Barcelona by bike and Batec.
All of the hotels we visited had a high accessibility index. What caught our attention was that all of the beds were an appropriate height for people with reduced mobility or people who use wheelchairs. This seemed to be a norm in Spain. In general, when we travel the beds are very high, but this was not the case in Barcelona.
The first hotel we visited was called the Hotel Indigo Barcelona - Plaza Catalunya, situated in a great location.
Then, a few blocks from the Sagrada Familia, you'll find the Hotel Barcelona 1882 on the street Carrer de Corsega. Its rooftops offer a beautiful view of Gaudi's great work.
After a long bike ride, we arrived at Via Augusta 269 to visit "MICs", an apartment building with apartments totally adapted and serviced for people with disabilities. The common spaces include a gym with a physical therapist and a pool. This would be an ideal place if you wanted to spend a month or more in Barcelona.
Finally, we headed toward the Ayre Hotel Gran Via, which belongs to the same chain as the first hotel we visited. This one is located at Gran Via de les Corts Catalanes 322, close to important tourist attractions like Plaza España, the Magic Fountain of Montjuic, Parc de Monjuic, the Jean Miro museum, and more.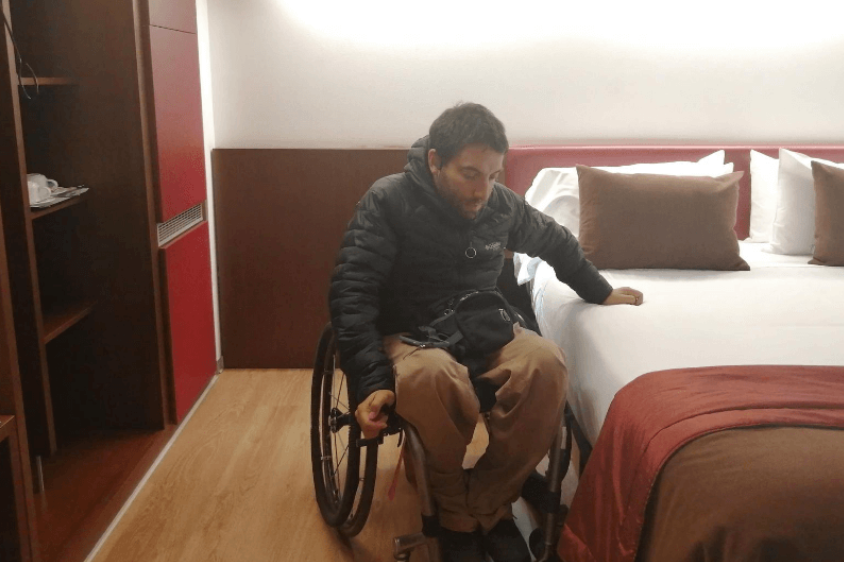 Wheelchair Accessible Beaches in Barcelona
Oh how we would love to spend a summer in Barcelona enjoying its beaches! Something we don't often come across when traveling is accessible beaches.
Barcelona has a series of beaches that meet accessibility criteria. The ones we visited were between Platja Sant Sebastia and La Nova Mar Bella. All of these beaches had ramp access and a wheelchair accessible pathway through the sand. There were public accessible restrooms as well.
We noticed that the sports area between Playa de la Barceloneta and Somorrostro had a ramp, space, and equipment for people in wheelchairs to use.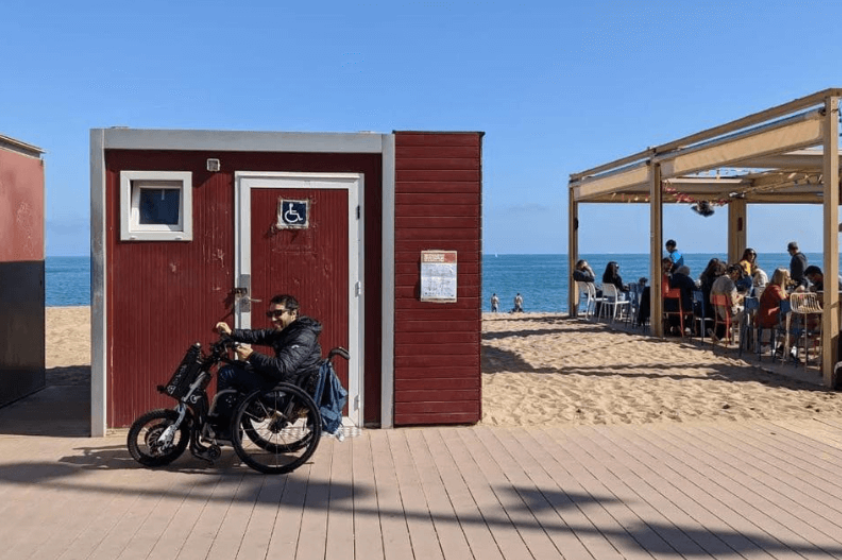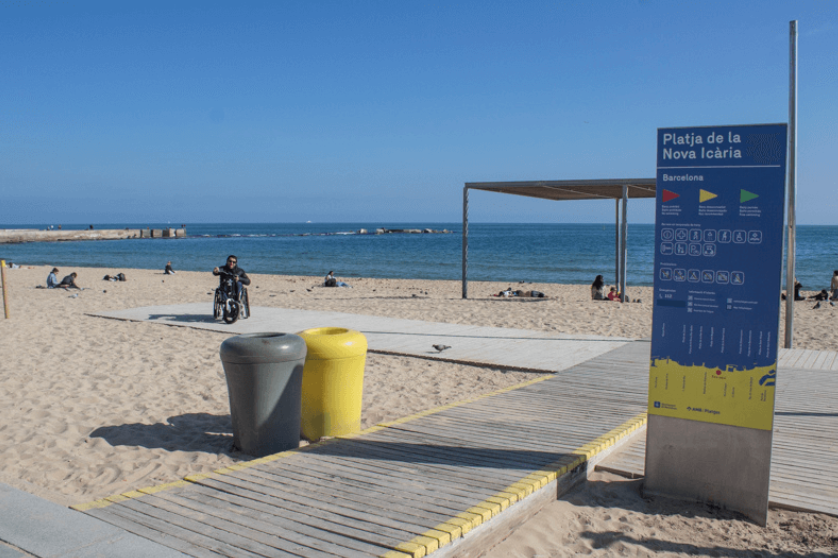 Care and Assistance for People with Disabilities
For those who need assistance with daily hygiene and cleaning, there is a service available from an application called Joyners, that worked very well for us. It's super simple and lets you program the days and times that you need. They were punctual, friendly and professional.
Conclusion
As I mentioned before, Barcelona is a great option if it's your first time traveling in a wheelchair or as a companion of someone with a disability. It's a city that's always been on the leading edge and in terms of accessibility it didn't get caught behind. It was incredible to return to Barcelona and view it from a different perspective. I saw it as a city that includes everyone and has a huge tourism industry with services that will make you want to come back again and again. Unfortunately, our trip got cut short due to the pandemic, and we still owe a visit to many tourist attractions that we were excited to visit: the Jean Miro museum, the Mies Van de Rohe pavilion, the inside of the Sagrada Familia, Parc Güell, the Batec Mobility factory, and much more.
My boyfriend and I dream of returning someday to this beautiful, accessible city.