"Flying with Wheels" Travel Tips for Wheelchair Users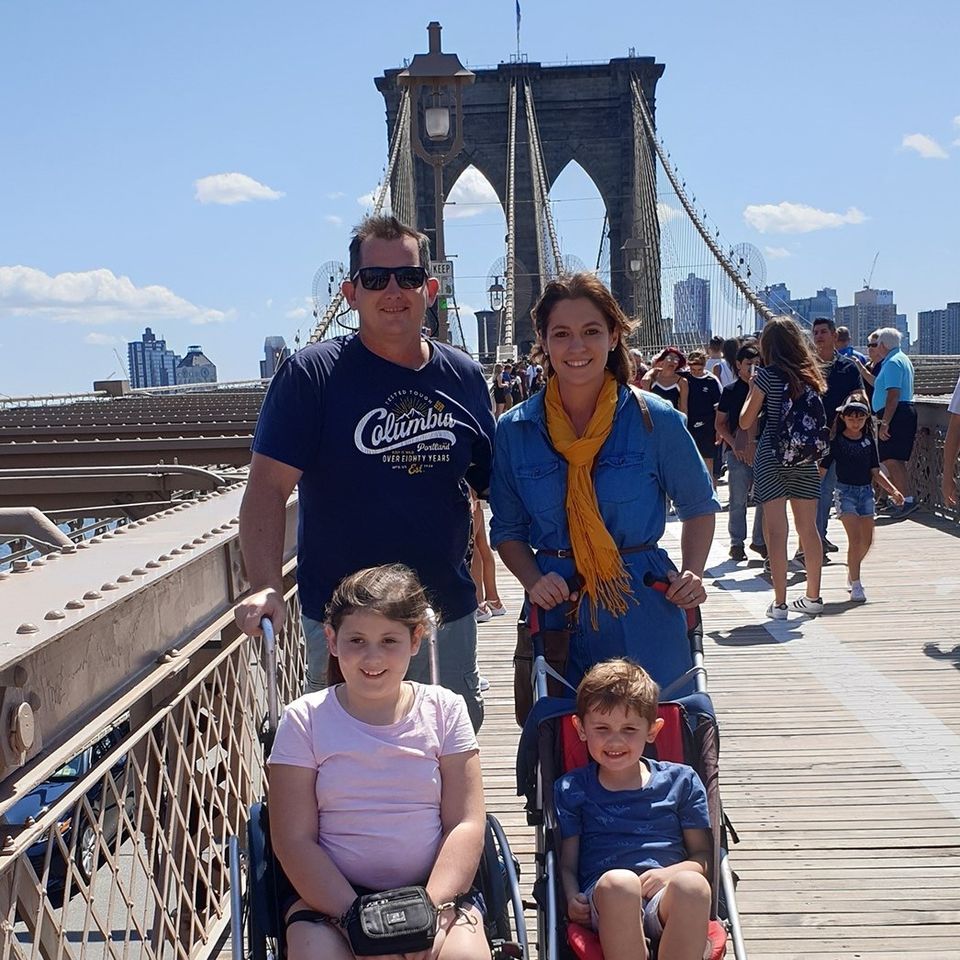 *This post is written by Contributor, Anne'l Styrdom
As a family of 4, we've traveled the world full-time for 3 years with 4 suitcases, 4 backpacks, 2 kids, and our daughter's wheelchair. From the day Anika was born, we decided to never assume that something "can't be done" unless we've tried it out. Life's too short to miss out on adventures!
We decided to try out Special Needs Family Travel for 3 months, and it worked out so well that we carried on traveling while working and schooling from all over the world for 3 years! We've been to several different countries and we took many long (and short) flights during our journey through France, Belgium, Netherlands, Luxembourg, Ireland, Mauritius, and many states of the USA.
Here are some tips and tricks we've learned along the way which will help make "Flying with Wheels" easier for other wheelchair users in the future. I've written this from a mom's perspective, but I'm sure some of these tips will be helpful to adult travelers who use wheelchairs too!
Request special assistance in advance
Even if you can manage with the wheelchair on your own, remember that you'll have your hands full with boarding passes, keeping the family (if you're traveling with your family) safe and together, hand luggage & figuring out where to go! Having special assistance also helped us skip most lines and porters usually knew the shortcuts through the big, busy airports.
2. Call 24 Hours before your flight to double-check the details of the booking
Call the airline 24 hours before your flight to make sure they have all the necessary details to make your flight as smooth and enjoyable as possible. Double-check your seat numbers for accessibility and make sure special assistance was booked and reflects on the system.
3. Tag the wheelchair
When you check-in, ask them to tag the wheelchair frame. Some wheelchair handles will be removed for storage and wheels may be taken off to save space, so the frame is usually the safest bet. Also, make sure to double-check that your destination and the wheelchair's destination match up!
4. Make sure you get to the airport in time
"In time" when you fly with a wheelchair means early! Make sure you are there with plenty of time to spare so that you're not in a rush. Being early will also give you time when you check in to make sure that they have everything in place on their side.
5. Request the use of an aisle chair
If you can't walk a short distance on your own to get from the airplane door to your seat, request the aisle chair in advance. It works well to get to your seat without hurting yourself or the people assisting you. Airlines have trained staff members who can help you to transfer onto the chair if you can't do it on your own.
6. Ask them to keep the wheelchair in the cabin
Whenever it's possible and the airline allows it, take your wheelchair all the way to the airplane door, move over onto the aisle chair, and ask them to keep the wheelchair in the aircraft cabin instead of in the airplane cargo hold. That way the chances for damage are less and if you have a stop-over it can easily be accessed and taken out to use during your stop-over.
7. Ask the airline to pre-board
This will give you more time and space, without other passengers on board, to get to your seat. It will also be easier to get the isle chair out of the airplane after you've been seated if the other passengers are not in the airplane yet. Make sure that the staff realizes that pre-boarding means to get onto the airplane BEFORE the other people board. Some airlines will let you board first, but with the rest of the passengers right behind you, which won't necessarily help!
8. Remove detachable items from the wheelchair if possible
Whenever possible, remove the wheelchair's cushion, seat cover, cup holder, detachable third wheels, etc. before they store the wheelchair. In that way, there are fewer things that can possibly break or get lost along the way. If you use a special cushion for support or comfort, it might also be better for you to sit on the cushion on the airplane seat.
9. Fold your wheelchair yourself - or tell the staff how to
As soon as you're seated on the aisle chair, fold your wheelchair yourself, or tell the staff how to fold it if it doesn't have a rigid frame. There are many types of wheelchairs and they fold in different ways, so the risk for damage will be lower and you will save the staff some effort and time as you know exactly how it folds! You can also take a strap along to tie around the folded chair if the wheelchair doesn't have its own strap.
10. Using the bathroom/restroom
Remember that restrooms on airplanes are small, difficult to get to, busy, not very hygienic, and extremely uncomfortable. There are many ways to manage incontinence during a flight, so if needed, I highly recommend that you look at your options beforehand. If you really need to use the bathroom/restroom during the flight, then ask the cabin staff to rather use the emergency medical area (more floor space with a curtain for privacy). Also, remember that you can request the aisle chair again during the flight for this purpose if necessary.
We decided to try out Special Needs Family Travel for 3 months, and it worked out so well that we carried on traveling while working and schooling from all over the world for 3 years! We've been to several different countries and we took many long (and short) flights during our journey through France, Belgium, Netherlands, Luxembourg, Ireland, Mauritius, and many states of the USA.

You can read more about our previous travel and house-sitting adventures, our life as a special needs family, and my courses for special needs moms on the links below:
FB @TheUnconventionalFamily or www.theunconventionalfamily.com
FB @DivinelyDifferentBlog or www.divinely-different.com
FB @EnabledMom