Guide to Accessible Charlottesville: Hotels, Activities, and Restaurants for an Inclusive Experience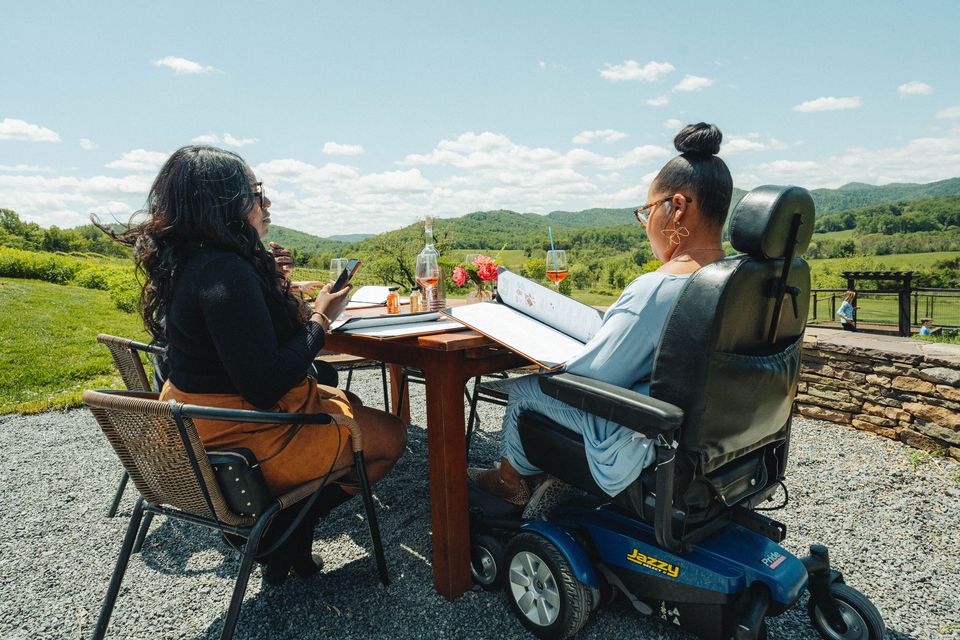 Nestled in the heart of Virginia, Charlottesville is a charming city that harmoniously blends history, natural beauty, and vibrant culture, offering its visitors a unique and memorable experience.
Whether exploring the quaint shops and boutiques, indulging in the diverse culinary scene, relaxing at comfortable hotels, or immersing yourself in the rich artistic offerings, Charlottesville provides a refreshing escape from the hustle and bustle of everyday life.
Charlottesville also captivates outdoor enthusiasts and nature lovers with its serene ambiance and breathtaking natural vistas. The rolling hills and scenic views that envelop the area create a tranquil setting, providing a picturesque backdrop for visitors. Beyond its array of attractions, Charlottesville's true charm stems from the intangible essence of delight and tranquility that fills the air, ensuring that every visitor is deeply moved by their experience in this remarkable destination.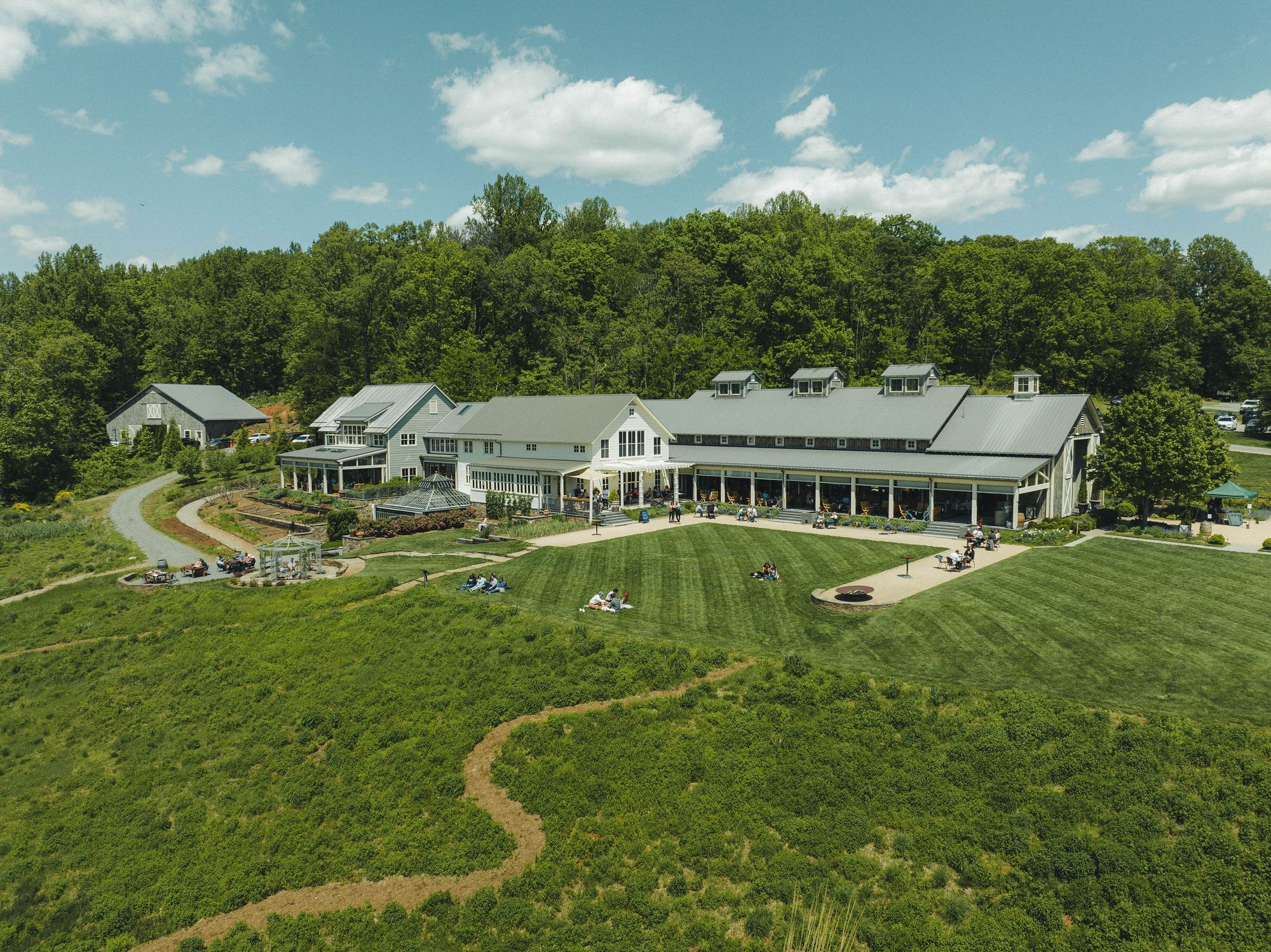 Now, the big question is, is it an accessible destination? In this blog post, we will highlight accessible things to do, places to stay, and restaurants that have an inclusive environment for everybody, whether you are a wheelchair user or not, can enjoy freely.
Convenient and Accessible Hotels in Charlottesville
Holiday Inn Charlottesville-Monticello, an IHG Hotel
Holiday Inn Charlottesville-Monticello offers a comfortable and convenient 3-star hotel in the heart of Charlottesville, Virginia. With its prime location near Monticello, the historic home of Thomas Jefferson, guests can explore the area's rich history. The hotel provides modern amenities, including spacious rooms, an outdoor pool, and an on-site restaurant, ensuring visitors' pleasant and enjoyable stay.
The hotel has accessible rooms equipped with roll-in showers, toilets with grab bars and step-free entrances, and spacious with free-turning spaces rooms and ensuite restrooms. The restaurant is located on the ground floor and offers and offers breakfast daily.
Residence Inn by Marriott Charlottesville Downtown
Residence Inn by Marriott Charlottesville Downtown is a modern and comfortable 3-star hotel located in the heart of Charlottesville, Virginia. The hotel offers spacious and well-appointed suites with fully equipped kitchens, separate living areas, and free Wi-Fi. With its convenient location, guests can easily explore popular attractions like the University of Virginia, Monticello, and the Downtown Mall.
The hotel offers wheelchair-accessible rooms featuring roll-in showers, toilets with grab bars, and step-free entrances. These rooms are designed to be spacious, providing ample free-turning spaces, and they also come with ensuite restrooms. Also, if you are looking for the perfect summer stay, the hotel has an accessible pool with wheelchair lift access!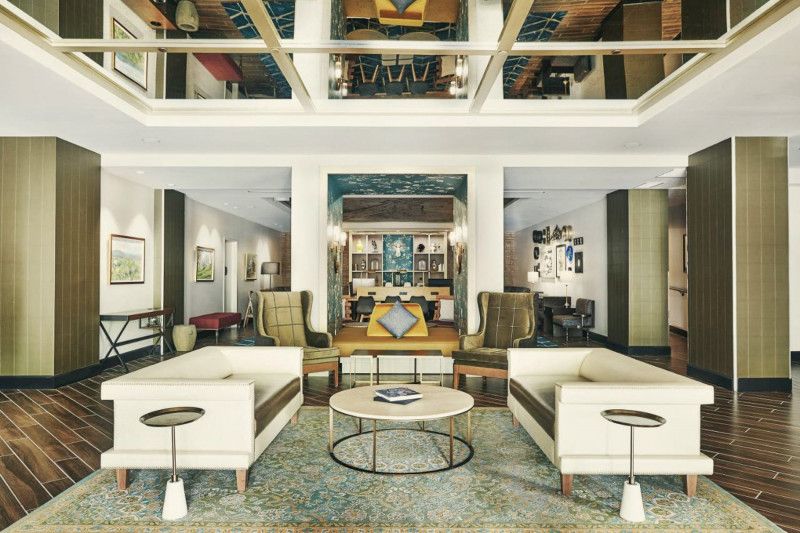 The Draftsman, Autograph Collection
The Draftsman, Autograph Collection, is a captivating 3-star hotel that seamlessly blends historic charm with modern luxury. Nestled in the heart of Virginia's picturesque countryside, this boutique hotel pays homage to the region's rich architectural heritage and artistic spirit. The meticulously designed guest rooms and suites offer a sophisticated, comfortable retreat adorned with tasteful decor and thoughtful amenities. The Draftsman, Autograph Collection, is an inviting destination where guests can indulge in a truly memorable experience that celebrates both tradition and innovation.  
The hotel has a step-free entrance, and accessible rooms offer roll-in showers or bathtubs, grab bars by their ensuite restrooms, white, elegant bedding, and step-free entrances.
Omni Charlottesville Hotel
If you're looking for a higher-end option, The Omni Charlottesville Hotel is a premier destination located in the heart of Charlottesville, Virginia. This luxurious hotel offers a sophisticated and elegant atmosphere, top-notch amenities, and exceptional service. With its convenient downtown location, guests can easily explore the vibrant city, including the nearby University of Virginia and historic attractions like Monticello.
The Omni Charlottesville Hotel boasts stylish and comfortable accommodations, ranging from spacious guest rooms to luxurious suites, all designed with modern amenities and plush furnishings. Accessible rooms offer spacious rooms with enough turning space for a wheelchair user, step-free entrances, private ensuite restrooms equipped with bathtubs and roll-in showers, and grab bars by the toilet and shower seats.  
Dining options at the Omni Charlottesville Hotel are a culinary delight, with a variety of on-site restaurants offering delicious menus crafted with locally sourced ingredients. The Pointe restaurant has a ground-level entrance, space between its tables, and step-free access to seating areas. Here, you can indulge in a delectable breakfast featuring classic favorites, enjoy a delicious lunch, or relax with a drink at night.
If you want to browse other accessible options, here you can find other Charlottesville hotels.
Fun, Accessible, and Must-Stop Places to Visit
The Virginia Discovery Museum
The Virginia Discovery Museum, located in Charlottesville, is a nonprofit organization dedicated to providing an enriching experience for children. Catering to children from newborns up to the age of 8, the Virginia Discovery Museum boasts a 40-year history of fostering curiosity and exploration. Through hands-on activities spanning various subjects such as science, literacy, math, and art, infants and children are encouraged to indulge their inquisitive nature and discover the world around them.
In addition to its educational offerings, the museum also prioritizes accessibility. The premises feature step-free or ramp entrances, ensuring easy access for visitors of all abilities. Furthermore, the public restroom is equipped with an accessible stall, complete with accessible sinks and a toilet outfitted with grab bars. These accommodations strive to provide a welcoming environment for all individuals, ensuring that everyone can fully enjoy their visit to the museum.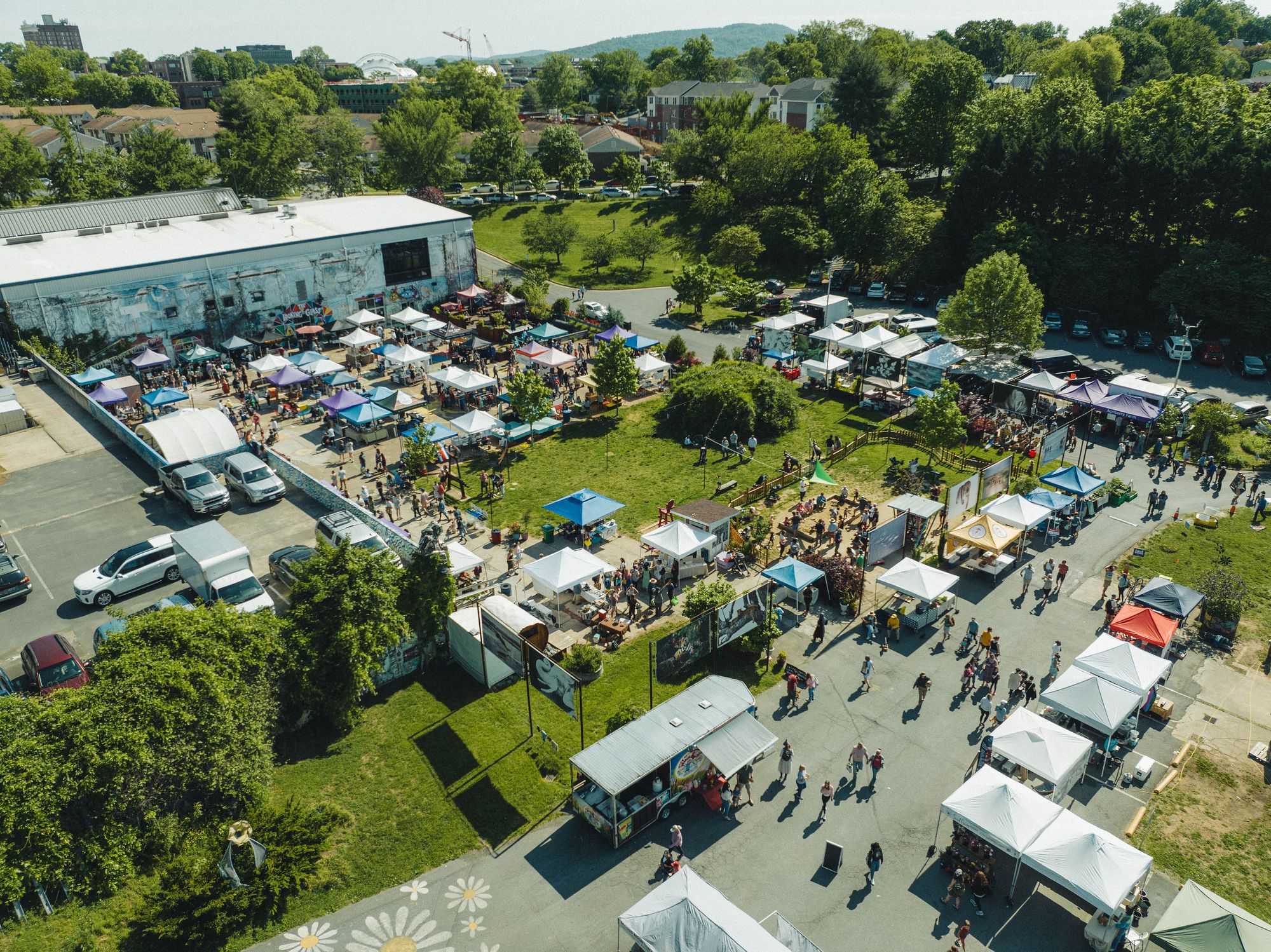 The Looking Glass: IX Art Park
Built on the belief that every individual possesses the artistic potential and should be granted the freedom to unleash their creative spirit, The looking glass: IX Art Park thrives as a communal shelter in Charlottesville. At its core lies a 24-hour open-air sanctuary adorned with captivating murals and sculptures, showcasing an impressive array of artistic expressions. Moreover, the park proudly extends its support to local enterprises and champions the endeavors of women and minority entrepreneurs through regular market events.
In addition to its artistic appeal, IX Art Park strives to be an inclusive space that caters to the needs of all visitors. With a deep commitment to accessibility, the park encompasses various amenities that foster a comfortable environment for everyone, such as step-free entrances, paved floors, a designated parking space for people with disabilities, and a restroom featuring a toilet with grab bars.
Thomas Jefferson's Monticello House
Monticello House, located near Charlottesville, Virginia, was the beloved home of Thomas Jefferson, the third President of the United States. The neoclassical-style house, designed by Jefferson himself, was built over 40 years and reflected his unique interests and innovations in architecture and design. The house's interior exhibits Jefferson's passion for art, science, and history, with rooms dedicated to his extensive library, scientific instruments, and collection of Native American artifacts. The sprawling grounds feature beautiful gardens, vineyards, orchards, and the unique Jefferson-designed octagonal dome room. Monticello stands as an enduring symbol of American history and culture. The site offers guided tours.
There are accessible restrooms at Thomas Jefferson's Monticello House and its guest center. Accessible designated stalls have a toilet with grab bars, sinks with knee clearance, and step-free entrances. Exterior areas have accessible paths and trails,  designated parking spaces, ramp or step-free entrances, and an elevator.
The Saunders Monticello Trail
If visiting the Monticello  House, we strongly recommend that you also explore The Saunders Monticello Trail,  a serene and captivating pathway spanning four miles surrounded by lush woodlands and rolling hills. The trail offers stunning views of the countryside and provides a peaceful retreat from urban life. Named in honor of Thomas Jefferson's historic home, Monticello, this trail seamlessly combines nature and history, inviting visitors to explore and connect with the region's natural beauty and rich heritage.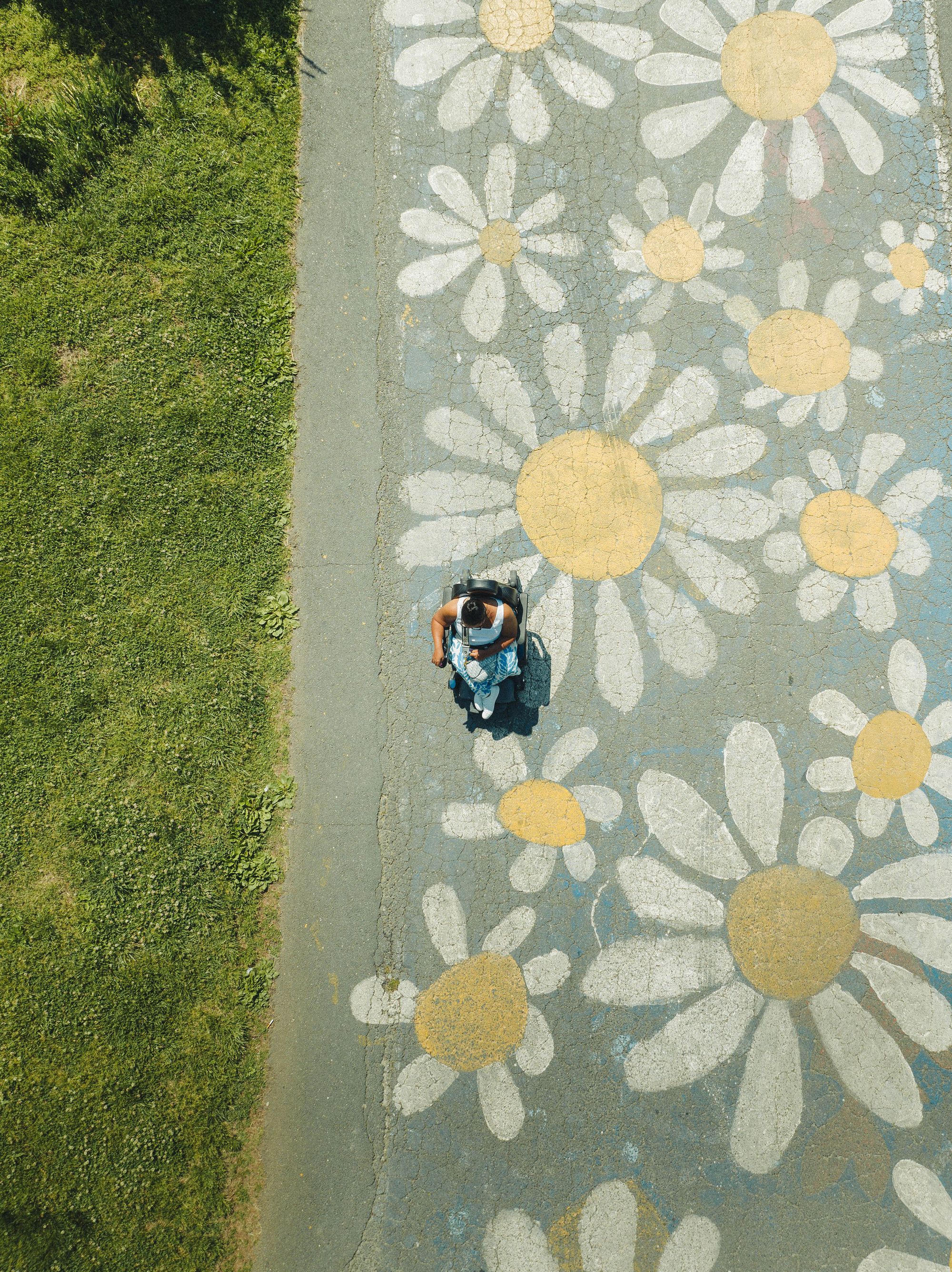 The Crozet Hop On Tour
The Crozet Hop hop-on hop-off tour is a perfect solution to discover Charlottesville's best breweries and wineries on an accessible bus! Beginning at 11 AM with an included pick-up service from your Charlottesville hotel or the option to meet at the IX Art Park, the tour will have 4 stops of 1 hour each. King Family Vineyards, Hazy Mountain Vineyards, Blue Mountain Brewery, and Silverback Distillery are just some of the stops you'll be able to pick.  
The tour takes place on an accessible bus equipped with a wheelchair lift, safety straps, and enough space for a wheelchair user to ride comfortably. After visiting the stops of your group's choice, you'll be returned to yout hotel. Please note that tastings and driver tips are not included in the price.
If you want to browse more activities and places to visit, here you can find more accessible Charlottesville things to do.
Accessible Restaurants in Charlottesville
The Ridley
The Ridley, the on-site restaurant of The Draftsman , Autograph Collection hotel, it offers a diverse selection of locally sourced drinks and food, creating a welcoming atmosphere for various occasions, whether it's watching sports with a beer, working with a coffee, meeting up with colleagues, or enjoying meals with loved ones.
With ground-level entrance, step-free access to seating areas,  and space between tables, every one can enjoy a meal at The Ridley. Also, the hotel lobby has a restroom equiped with a toilet with grab bars.
Rapture Restaurant
Rapture Restaurant is a trendy and upscale dining location known for its fusion cuisine and innovative culinary creations. With a sleek and modern ambiance, the restaurant offers a sophisticated dining experience for patrons seeking a unique gastronomic adventure. From their meticulously crafted dishes to their extensive wine list, Rapture Restaurant aims to provide a memorable and indulgent dining experience for food enthusiasts.
With ramp entrance, step-fee access to seating areas, and an accessible toiletwith grab bars, Rapture Restaurants lets people of all abilities enjoy a luxurious meal.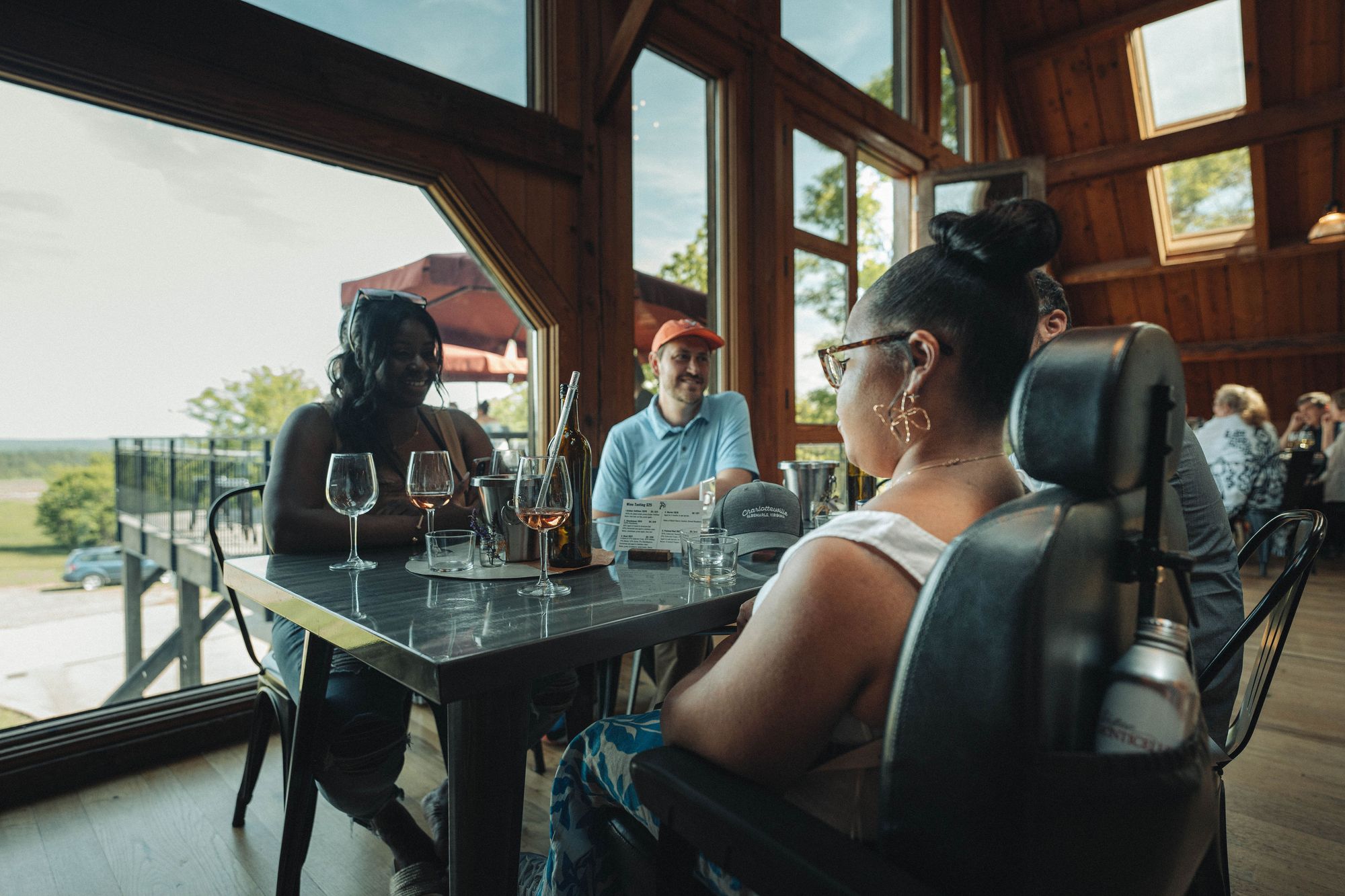 Jack Brown's Beer & Burger Joint Charlottesville
Jack Brown's Beer & Burger Joint Charlottesville is a popular and lively restaurant located in Charlottesville, Virginia. They are known for their delicious gourmet burgers and wide selection of craft beers from around the world. With its inviting atmosphere and friendly staff, Jack Brown's Beer & Burger Joint Cville is a must-visit spot for burger and beer enthusiasts in the area and for its visitors.
With step-free entrances, an accessible restroom, and spacious dining room, the site makes having a delicious burger and a fresh bear an inclusive experience.
So... Is Charlottesville an accessible destination?
At Wheel the World, we believe everyone has different accessibility needs and every person is unique within their disability. This is why it is difficult to say an entire city is accessible. Nevertheless, we do believe Charlottesville is a great destination for visitors who have a disability. It offers fun, inclusive activities, accessible accommodations, and great restaurants to have a delicious meal. Charlottesville has put a lot of effort to ensure that everyone can enjoy a comfortable and memorable stay. If you are interested in visiting Charlottesville or other US destinations , feel free to browse options of accessible stays and accessible activities.